TOUGH GUN TT4A Reamer
Power Through Weld Spatter for Increased Uptime and Weld Quality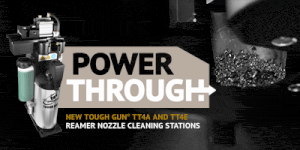 The TOUGH GUN® TT4A reamer is a robotic nozzle cleaning solution that maximizes uptime through superior cleaning performance, high durability components and features that allow quick and easy maintenance.
You'll spend less time maintaining and troubleshooting your robotic welding equipment and more time getting product out the door!
Reduce downtime, safety incidents and costly weld defects related to anti-spatter
Automating spatter removal extends the life of your robotic MIG guns and consumables, benefiting your production uptime, throughput and your bottom line.