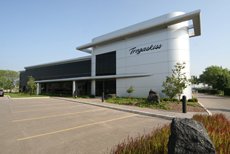 Tregaskiss is an industry leader in the development and manufacture of robotic MIG guns, peripherals and welding consumables. The company began its manufacturing endeavors in 1967 when William Tregaskiss, began independently selling welding products throughout Michigan, USA and Ontario, Canada. That same year after realizing the need for a durable welding gun to withstand harsh automotive factory environments, Tregaskiss and Ford Motor Company teamed up to design the Auto 350 robotic MIG Gun.
Its reputation as a strong, reliable torch positioned the Auto 350 to become the standard welding gun throughout the automotive industry. Continuous improvements led to the evolution of a new welding torch, the T40, which introduced features that have become standard for many brands today.
Tregaskiss's next wave of progress in the automotive industry was within robotic work cells. Tregaskiss put significant focus on pioneering a new line of robotic welding guns and accessories. The continuous need for tough, robust welding equipment led to developing the quick-change robotic gun, expanding the product line with robotic peripheral equipment, and continuous improvements to existing products. 
In 1992, the TOUGH GUN™ brand was introduced to the marketplace. The new TOUGH GUN product line combined several industry firsts such as "built-to-order" welding torches and consumables, interchangeable parts, self-insulated nozzles, self-insulated nozzles, direct plug-in power pins, and a lifetime warranty on handles and switches. 
Due to the growing demand for Tregaskiss MIG Welding Products, Tregaskiss established a distribution network in1983 throughout North America. Similarly, distribution in Europe was introduced to Tregaskiss MIG Guns in 1989. 
Family owned until 2007, Tregaskiss then became part of ITW Canada Inc. As part of ITW Welding — Tregaskiss gained access to additional research and development, engineering and technical resources. 
 
Tregaskiss Headquarters in Windsor, Ontario has expanded several times over the decades to accommodate its rapid growth. Today, Tregaskiss continues to listen to the needs of its customers and remains committed to innovation and quality excellence