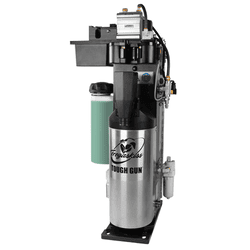 with a TOUGH GUN® TT4 Reamer nozzle cleaning station
Spend less time maintaining and troubleshooting your robotic welding equipment and more time getting product out the door!
Automating spatter removal extends the life of your robotic MIG guns and consumables, benefiting your production uptime and throughput.
The TOUGH GUN® TT4 reamer nozzle cleaning stations maximize uptime through their proven superior cleaning performance and high durability components – plus new features that minimize issues related to anti-spatter.
TOUGH GUN TT4 Reamers are available in two models:
Superior Performance
Power through spatter to improve gas flow to reduce weld porosity in robotic applications.
.95 HP motor and 236 lbs. of spindle lifting force at 95 psi
High Durability Components
Powerful, lubricated motor lasts up to 18M cycles at 80+ psi
Durable valves and cylinders rated for 10M+ cycles
Wire cutter can run 1M+ cycles without requiring maintenance
Purchase With Confidence
Industry leading 2 year warranty can be increased to 3 years with exclusive use of TOUGH GARD® Anti-Spatter Liquid
New Standard Features Reduce Downtime, Safety Incidents And Costly Weld Defects Related To Anti-Spatter
NEW Anti-Spatter Reservoir With Increased Fluid Capacity
A tethered cap and easy-clean filter help prevent anti-spatter contamination, which can lead to weld quality issues
Larger 20-oz capacity increases uptime between refills
NEW Low Fluid Level Indicator
Sends a signal to the PLC / robot when anti-spatter is running low
NEW Spray Containment Unit
Reduces risk of slip / trip hazards due to overspray contamination
Reduces downtime and costs for cell clean-up
Easy to remove and clean