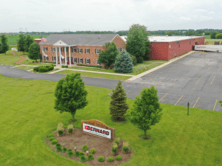 Bernard Welding's success and reputation of being a MIG welding innovator can be traced back to its pioneering efforts in the welding industry shortly after World War II.  
In 1947, Arthur A. Bernard founded Engineered Welding Products on the south side of Chicago. What began as a small storefront quickly evolved into a strong growing company.
In 1954 he invented and patented Dual Shielded welding, otherwise known as flux-cored arc welding. Shortly thereafter, Engineered Welding Products relocated to Beecher, Illinois and opened its doors in 1963 under a new name, Bernard Welding, with 20 employees. Bernard was family-owned and operated until Dover Corporation purchased it in 1970, later to be purchased by Illinois Tool Works in 2001. 
Over 75 years later, Bernard's headquarters and state-of-the-art manufacturing facility continues to operate in Beecher, Illinois. As part of ITW Welding — a group of companies owned  by ITW that supply welding related products globally — Bernard maintains its commitment to high quality and durable semi-automatic MIG welding products.