Preventive Maintenance Isn't Just for Welding Robots
Investing in welding automation can be a relatively quick way for companies to achieve greater productivity, improve weld quality and reduce costs. But protecting that investment is key to maintaining these benefits over the long term. Preventive maintenance (PM) programs are an easy and cost-effective way to help. These programs not only protect against costly downtime, but they can also help lower labor costs, reduce waste and minimize rework. In some cases, they may even expedite the return on investment (ROI) in the automated welding system.
PM programs, however, shouldn't be limited to just the robot or the power source. Protecting your robotic MIG gun and consumables with a PM program is also critical. It can help minimize weld defects, reduce downtime for changeover, and keep the robot up and running longer. Consider these tips to help along the way.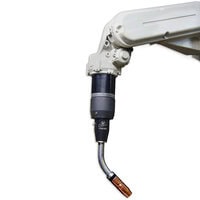 Preventive Maintenance Tasks
There are four key tasks to consider as part of the PM program for your robotic MIG gun and consumables.
1. Check connections on a regular basis
During routine pauses in production, look for secure connections along the length of the robotic MIG gun. Be certain that the MIG gun neck, retaining head (diffuser), contact tip and nozzle are all tight and clean. Also check that the seals around the nozzle are in good condition. Good connections help ensure smooth electrical flow and minimize heat build-up that could lead to poor welding performance and/or premature consumable failure.
2. Regularly inspect the welding cable and power pin
Look for signs of wear on the welding cable and make sure that you have properly secured welding cable leads. Also, make sure that the welding cable isn't rubbing against any part of the robot's metal casting, as friction can cause the cable to loosen or become damaged. Inspect the power pin, as well, to make sure it is secure.
3. Look for spatter build-up.
Regularly inspect the nozzle, contact tip and retaining head for spatter build-up and replace these consumables as necessary. Spatter build-up can block shielding gas flow, leading to poor weld quality, and also lead to premature consumable failure due to a build-up of heat. Ideally, use a nozzle cleaning station (also called a reamer or spatter cleaner) in conjunction with a sprayer that applies anti-spatter compound to minimize spatter build-up.
4. Replace the liner ahead of failures.
Track how long it takes for the liner in your robotic MIG gun to become worn and schedule a replacement accordingly. Gauging the life of your liner can help prevent unplanned downtime to address wire-feeding or quality issues resulting from routine wear or clogging.
For all preventive maintenance on your robotic MIG gun, be sure to use the proper tools for the job. Robotic MIG gun and consumable manufacturers typically provide recommendations for their products.
The Frequency and Scope
The frequency and scope of PM activities for your robotic MIG gun depend largely on your application. You should be able to complete most activities, such as checking for secure connections or consumable changeover, on a shift-by-shift basis during routine pauses in welding. Other activities, such as liner replacement, may take longer and need to be completed off-shift.
Regardless of whether you weld a high-volume components or larger low-volume assemblies, you should manage the period of time in between routine robotic MIG gun inspections to effectively reduce the downtime required to complete the PM cycle. A small investment of planned down time will mitigate the risk of larger challenges that most often prove more costly in terms of time.
For all types of applications, it's best to develop an initial plan for PM activities for your robotic MIG gun. Once developed, you can adjust accordingly until you feel that you have the program that works best for you.