Choosing Between Fixed Automatic, Cobot and Robotic Welding
Estimated reading time: 5 minutes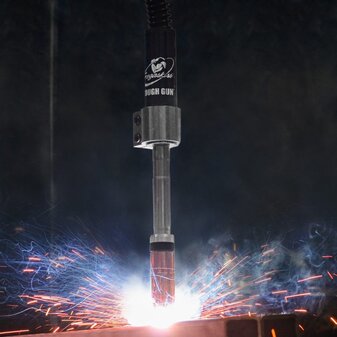 No doubt manual, or semi-automatic, welding has its place across the industries — general fabrication and manufacturing, shipbuilding and more — and it will continue to be an important process for many applications. There are times, however, when companies need to turn to welding automation to augment or replace portions of their operations. Some may benefit from fixed welding automation, while other operations lend themselves to either cobot welding or automated (robotic) welding.
At a high level, companies tend to move to one of these types of welding processes for similar reasons: to improve quality, increase welding productivity and/or lower costs. Some companies may be responding to an increase in demand from customers or want to gain a competitive edge by supplementing their operations with automation. In certain cases, companies may replace some semi-automatic welding cells, shifting welding operators to oversee the automated operation. These systems always require interaction with an operator for loading and unloading parts, programming and troubleshooting when necessary.
To implement the right solution and successfully operate it requires careful planning. A robotic integrator or equipment manufacturer can help, and they can also provide a thorough calculation to help determine the expected return on investment (ROI).
So, when is it time to add an automated welding solution? And which one is the best for a given application?
Fixed automation
Companies that find themselves with very large parts that are difficult to weld in a timely or repeatable manner with a semi-automatic process may want to consider fixed welding automation. This process is well suited to high-volume operations with a low variety of parts, such as structural beams or railcars requiring long, continuous welds or pipe that requires circular welds. The investment in fixed welding automation equipment is relatively low, but it can provide a reliable payback by increasing productivity.
Companies can choose from two options:
Tooling that holds the part in place combined with a fixed automatic welding gun that moves the length of the weld joint on a track. This is a good option for long, linear welds.

A fixed automatic welding gun held in place by tooling while the part moves. This setup works well for pipe, which can be rotated.
Because there isn't a lot of flexibility with tooling, companies investing in fixed welding automation need to consider their long-term plans and the parts they will produce.
Cobot welding
Companies seeking greater versatility in their high-mix, low-volume operations or those needing to produce longer welds than possible with a semi-automatic process could benefit from cobot welding. Those who are interested in the faster speeds associated with welding automation but have limited space or capital to invest may also want to consider the switch. Cobot welding systems are less expensive than robotic welding systems, have a smaller footprint and don't require the guarding that a robot would.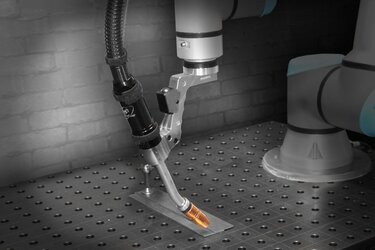 Since a welding operator works side by side with the cobot, he or she can be in the cell with the equipment with a relatively low safety risk. Cobots are also portable, allowing companies to address multiple applications in the facility without the need to invest in additional equipment.
Training requirements are minimal compared to robotic welding, with straightforward programming on a tablet, and setup is relatively quick. These factors are important for companies struggling to find and retain skilled labor and those seeking productivity increases.
During operation, the operator sets the cobot welding gun at the starting point to put the welding in motion. The cobot is designed to complement the work that the welding operators are doing and allows them to attend to other tasks like grinding while the cobot is welding.
Robotic welding
When a company is falling short of its production goals, experiencing weld quality issues or facing increased customer demands, it may be time to invest in a robotic welding system. While smaller operations can benefit from this process, robotic welding systems especially excel at high-volume, low-variety applications. The facility must have the appropriate space available; robotic welding cells typically take up more room than a cobot or a semi-automatic welding cell.
An advantage of robotic welding, in addition to speed and repeatability, is the relatively quick ROI. To gain that, however, it's important that the parts coming from upstream are consistent — gaps or poor fit-up can hinder the operation — and that there are no bottlenecks that would make the robot stay idle. An electronic CAD model of the part can help determine if a part lends itself to repeatability.
As with fixed welding automation and cobot welding, it's imperative to have a welding operator involved with a robotic welding system. Parts need to be loaded and unloaded, and the robot requires programming. Robot integrators and manufacturers typically offer training to help ensure success.
Making the switch
Whether a company is a candidate for fixed welding automation, cobot welding or robotic welding, taking the time to carefully plan for the investment is important. Look to a trusted welding distributor, robot integrator or equipment provider for assistance and for help determining the expected payback.