Cobots and Cobot MIG Guns: What To Know for Manufacturing Welding Operations
Traditional robotic welding systems can deliver many benefits, but they aren't always the right solution for every manufacturer. In applications where implementing a robotic weld cell isn't the answer, some companies are turning to collaborative robots, or cobots.
While not new to the industry, cobots are currently a fast-growing and still-developing technology. They can help operations save time, improve part quality and deliver consistency — all at a lower investment cost than a robotic welding system.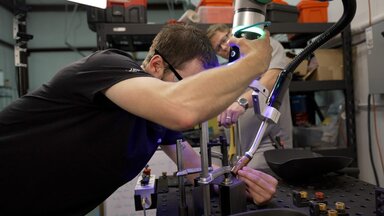 Knowing the basics goes beyond just the equipment itself. It's also important to understand how cobot welding gun and consumables selection play key roles in optimizing this technology.
Why cobots?
Cobots are still industrial robots, but they are designed to operate safely alongside workers and enable human collaboration with the robot. As an example, a cobot may be welding a workpiece while the nearby operator inspects and cleans a weld that was just completed by the cobot — essentially turning one worker into two.
Manufacturers with high-mix, low-volume production (those that make smaller numbers of a wide variety of parts) are a good fit for cobots, making general manufacturing and job shops common adopters.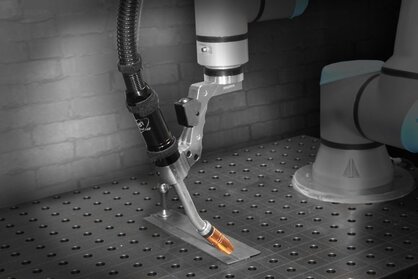 There are several benefits that can help operations save time and money while improving part quality. These include:
1) Lower total cost
Cobots are typically less expensive for operations to adopt compared to a fully automated welding cell. This includes the initial cost of the equipment and the training required to get operators up to speed for programming and using it. In addition, many companies that provide robot integration offer leasing options for cobots, making it easy for manufacturers to try out the solution before making a purchasing decision.
2) Ease of use and training
Cobots have intuitive touch-screen user interfaces and are significantly easier to use than traditional robotic welding cells. Operating a cobot requires some training, but little welding or programming experience is necessary to successfully operate it. Compare that to a traditional robotic welding cell, which typically requires more extensive welding or programming experience. The reduced level of training with cobots can be a plus for operations that struggle to find and retain skilled labor.
3) Reduced safety risks
Because cobots are designed to be operated with human interaction, they have many built-in safety measures. They are limited in how fast they can move, are very sensitive to collisions, and they do not have pinch points. They will stop movement in the event of a collision. And because of these design parameters, the cobots will not be moving very fast if they do collide with something. Cobots can be programmed to move faster when they are not working alongside a human.
4) Portability
Many cobots are portable — essentially a table with a robot on it. They can be moved elsewhere in the facility to be used where they are needed. This allows operations to easily change which production line is using it.
Implementing cobots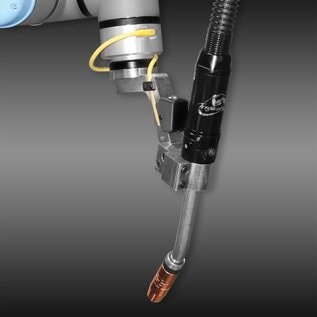 Cobots are designed to offer a low barrier to entry — with fast setup and high ease of use. The programming required and specifics of the user interface will vary based on the integrator, but often the cobot is controlled by a tablet or cell phone app — making training and programming very easy. Some cobots are assembled before they are shipped, so setup only takes 30 minutes to an hour.
Once set up, operators can move the cobot to exactly the spot they want to start the weld and push a button to save that point. Then they can move the cobot to the end point of the weld and save that point. This can be easily repeated for each weld.
Some cobots allow the addition of different features to the programming, such as seam welds or stitch welds.
Choosing a welding gun and consumables
While it's easy for the selection of a welding gun and consumables to be an afterthought in the process, these play an important role in the performance and efficiency of any welding system, including a cobot.
Choose a high-quality gun and consumables to optimize results, provide longer product life and reduce the time and money spent on troubleshooting. Reducing consumable changeover and potential issues is especially important for companies with less-experienced operators.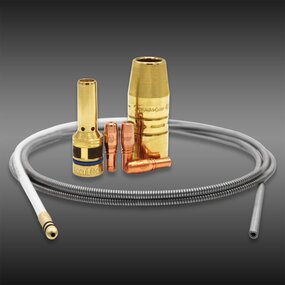 MIG guns for cobots are tested and rated using the same standards applied to traditional MIG guns. Be aware of what the rating means when selecting a MIG gun for cobot welding, as it helps prevent overheating when guns are used as they are rated.
A gun like the Tregaskiss BA1 cobot MIG gun features metal-to-metal connections that hold it in place in the mounting arm and keep the aluminum-armored neck firmly connected in the gun body to ensure accurate, quality welds. It also has minimal fasteners and a precision-machined keyway mounting system, making installation of the gun and mounting arm quick, easy and accurate.
To simplify maintenance, consider a front-load liner, since these can reduce downtime for changeover. The liners are replaced from the front of the gun without disturbing the gun, wire or feeder connection. Liner issues and challenges with liner replacement are a common cause of troubleshooting with both cobot MIG guns and traditional robotic ones. Having an easier liner replacement process helps reduce or avoid problems.
Look for consumables, like AccuLock™ R contact tips, nozzles and gas diffusers, that are designed to maximize production uptime through long service life and quick replacement. Since contact tip cross-threading issues can be a source of downtime in welding operations — especially with less experienced welding operators — these consumables feature coarse tip threads that help to eliminate the problem. They also feature increased mass and are buried within the diffuser, away from the weld, to increase tip life.
Cobots in welding
In the right manufacturing operation, cobots can help improve productivity and efficiency and lessen the strain on operations having difficulty finding skilled welders.
However, users expect a quick-to-implement and easy-to-use solution that keeps their operations agile and profitable. Choosing durable, high-quality cobot MIG guns and consumables for a cobot system can keep operators focused on manufacturing quality parts instead of troubleshooting or maintenance. This helps operations achieve their productivity and quality goals — and get the results they want.