Understanding Fixed Automatic Welding Guns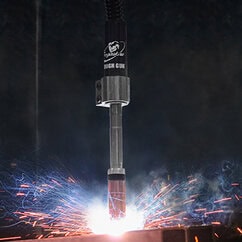 When it comes to automating the welding process, many companies opt for robotic welding systems due to the flexibility they provide and their ability to reach and weld multiple joints. These systems provide the advantages of speed and accuracy and can be reprogrammed to manage new projects.
But these robotic systems aren't right for every application. In industries such as oil and gas, railcar, structural steel fabrication and shipbuilding, joint configurations are often less complex, consisting of a single part to be welded as opposed to full assemblies. In this case, fixed automatic welding is generally preferred.
About fixed automation welding
Fixed automation welding, sometimes called hard automation welding, is commonly used for welding pipes, structural beams, tanks and vessels in a shop environment prior to them being moved to the jobsite where they will be placed into service. It can also be used for welding steel plates for the general fabrication industry or in the manufacturing of hot water heaters and propane tanks.
Common Factors for Suitable Applications
One common factor in these applications is the need for either longitudinal or circular (inside or outside diameter) welds that require repeatability as opposed to versatility. Other factors that make applications suitable for fixed automation welding include:
1. A high volume of similar parts with low variety
2. Large parts with very long welds or several similar welds
3. Large parts that would be difficult to weld manually
In some cases, fixed automation welding can help companies meet high production goals at relatively low cost. And it is easy for a single operator to oversee and load parts, making it desirable from a labor perspective — particularly given the shortage of skilled welders the industry is facing.
Setups
A fixed automation welding cell can be set up in two ways. The first option requires tooling that holds the part in place, while a fixed automatic gun moves along the weld joint by way of a mechanized seam welder or a track and carriage that holds the gun in place. This option would be viable for a long structural beam, for example.
In the second scenario, the welding gun may be fixed in a single place by tooling while the part, such as a pipe, rotates on a lathe or circumferential fixture during the welding process. In today's marketplace, there is equipment that can rotate parts in a wide range of diameters and weights.
Tooling for fixed automation welding offers minimal flexibility and can be expensive to adjust for new parts. This is true particularly in comparison to a robotic welding system that can be reprogrammed to articulate and weld in different positions along the X, Y and Z axes.
When investing in the tooling for fixed automation welding, it's important for companies to determine upfront what their long-term applications will be. Will they continue to weld parts that are straight or circular for the foreseeable future?
Avoiding pitfalls in the process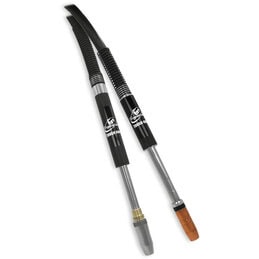 One very important part of the fixed automation welding system is the welding gun. It is not uncommon for companies to take a do-it-yourself (DIY) approach to this piece of equipment. Namely fixturing a semi-automatic gun in place with various components to mimic the performance of a fixed automatic gun. Sometimes this is done out of convenience, due to the shop having an abundance of semi-automatic guns, or because of a perceived cost savings.
Unfortunately, a DIY gun assembly for this process can be time-consuming to set up and maintain, which adversely affects productivity. It also is not optimized for fixed automation welding. Quality may suffer due to off-seam welds or other inconsistencies, leading to rework that further reduces throughput and increases costs. Also, if replacement parts are needed there could be variations in the assembly since it is not set up for this process. Again, this can lead to quality issues.
Instead, it is important to invest in a fixed automatic gun that is designed for the process. These guns have consistent components that can be sourced from manufacturers so that the welds are repeatable. And the gun manufacturers can provide service and technical support.
Looking at the choices
Guns need to be specified or customized for the application according to the available space, taking into account the distance between the gun and the part and also how far away the wire feeder is. These factors impact neck length and bend or angle, as well as cable choices.
Necks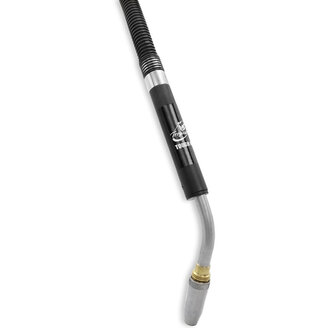 Necks are typically available in the marketplace in varying lengths, from approximately 4 to 12 inches. Available with either a straight neck or 22-, 45- and 60-degree bends. Companies need to determine the reach required to meet the weld joint, as well as the necessary angle for completing a sound weld.
Cable Lengths
Cable lengths vary from as short as 3 feet to as long as 25 feet. Longer cables are ideal for reaching a wire feeder placed further away from the part, including on a boom. In other situations, a company may mount the feeder directly on the tooling or nearby. In that case, a cableless gun is an option for air-cooled operations. These guns plug directly into the wire feeder via a power pin and do not require a cable. Amperage and duty cycle also need to be factored into the selection of a fixed automatic gun, and both depend on the thickness of the material being welded and the amount of arc-on time required.
Air-cooled fixed automatic guns are typically available from 300 to 500 amperage models, offering either 60% or 100% duty cycle. Duty cycle is defined by the amount of time within a 10-minute cycle the gun can weld without becoming overly heated.
The necks on these guns are particularly durable since they have fewer internal channels than a water-cooled gun and rely on the ambient air to cool them. They are also more resistant to bending, and replacement parts are less expensive.
For higher-amperage fixed automation welding applications that require longer periods of welding on thicker material, a water-cooled gun may be a better choice. These models are typically available in amperages ranging from 450 to 600 amps and offering 100% duty cycle.
Hybrid water-cooled guns are another option. These fixed automatic guns have a sturdy neck similar to an air-cooled model with water channels running external to it. These channels make the guns easier to maintain than water-cooled guns.
Additional considerations
Along with selecting the appropriate components for a fixed automatic gun, it's also essential to choose high-quality consumables — nozzles, contact tips and gas diffusers. This helps minimize downtime for frequent changeovers and supports production goals. They can also reduce quality issues that could require rework later in the welding operation.
Consumables are available that can be used across different types of welding guns, including semi-automatic ones and fixed automatic guns. This compatibility can be beneficial to simplifying inventory and preventing errors when installing new consumables on either type of gun.