Bernard Expands Power Pin Offering for AccuLock S Consumables System
BEECHER, Ill. (November 10, 2020) — Bernard announced that its AccuLock™ S consumables system now includes Lincoln®, Tweco® #4 and Tweco #5 power pins. These are in addition to the power pins for Miller® equipment previously available.
All power pins are configurable options for the company's BTB semi-automatic air-cooled MIG guns using the online configurator.

The AccuLock S consumable system addresses errors in liner trimming by locking and concentrically aligning the liner between the contact tip and power pin — no fasteners required. This system provides a flawless wire feeding path to minimize downtime associated with issues like burnbacks and birdnesting. Installing and replacing the liner is an error-proof process that requires no measuring. Users simply load the liner and trim it flush with the power pin.

Contact tips in the AccuLock S consumables system last two to three times longer due to optimized wire feeding. The contact tips also simplify inventory as part of a common consumable platform; they share the same contact tip with Tregaskiss® AccuLock R consumables.

The AccuLock S consumables system requires all AccuLock components: contact tip, diffuser, nozzle, liner, neck insulator, power pin and power pin cap.
AccuLock R Consumables Now Available on Fixed Automatic and Robotic Water-Cooled MIG Guns
WINDSOR, Ontario (October 27, 2020) – Tregaskiss announced its fixed automatic MIG guns and robotic water-cooled MIG guns are now available with AccuLock™ R consumables. This consumable system has been designed to increase contact tip life and virtually eliminate cross-threading issues, leading to a reduction in both planned and unplanned downtime for changeover.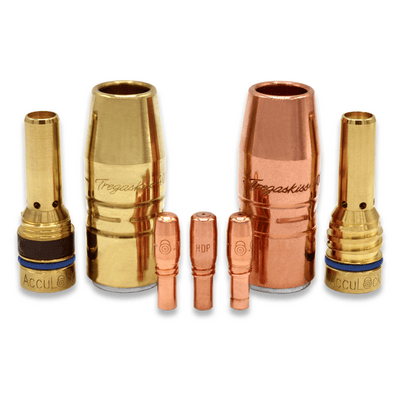 AccuLock R consumables are compatible with the Tregaskiss MA1 fixed automatic air-cooled MIG gun, as well as the Tregaskiss MW1 and AW2 fixed automatic water-cooled guns for hard tooling automation applications. They are also available on the Tregaskiss 600-amp robotic water-cooled MIG gun, which is designed to improve productivity on demanding applications, such as welding thick plate or running prolonged duty cycles. Customers currently using TOUGH LOCK® consumables on their 600-amp robotic water-cooled gun can convert to AccuLock R consumables with no impact on Tool Center Point (TCP).
The consumables, including contact tips, gas diffusers and nozzles, are an option to select when customizing any of the guns using the Tregaskiss online configurators.
AccuLock R contact tips feature coarse threads that are responsible for virtually eliminating cross-threading, along with a long contact tip tail. The tail concentrically aligns inside the diffuser before engaging to ensure quick and accurate contact tip replacement, reducing time spent troubleshooting.
The AccuLock R contact tip has an increased mass at the front of the tip; plus, 60% of the tip is buried in the diffuser so it is protected from the arc's heat. Tapered mating surfaces provide excellent electrical conductivity and also keep the consumables locked in place.
Bernard and Tregaskiss Release New MIG Welding Guns & Consumables Catalog
BEECHER, Ill./WINDSOR, Ontario. (August 4, 2020) — Bernard and Tregaskiss have announced the availability of a joint MIG Welding Guns & Consumables catalog.
The 46-page, full-color catalog includes a consumable comparison chart to compare contact tip, nozzle and diffuser types across the brands' available consumables offerings, along with a consumables and MIG gun series compatibility chart to guide users in their selection.
The catalog offers easy-to-read key features and part numbers for its products and is organized by product category, first highlighting the brands' exclusive AccuLock™ S and AccuLock R Consumables — both designed to reduce downtime and improve welding performance.
Also included in the catalog are product details and configurator overviews for customizing Bernard® Semi-Automatic MIG Guns, Tregaskiss® Robotic MIG Guns, Clean Air™ Guns and more. Tregaskiss Fixed Automatic MIG Guns for hard tooling applications are also featured.
Each page includes website QuickLinks with URLs users can visit to learn more about a specific product, plus service and support contact numbers and directions to explore online resources, such as videos and product configurators.
The catalog can be downloaded as a PDF or ordered as a printed copy at Tregaskiss.com/literature.
Bernard Expands AccuLock S Consumables System
BEECHER, Ill. February 19, 2020 – Bernard has expanded its AccuLock™ S consumables system to include additional diffuser and nozzle types and sizes, as well as new contact tip options.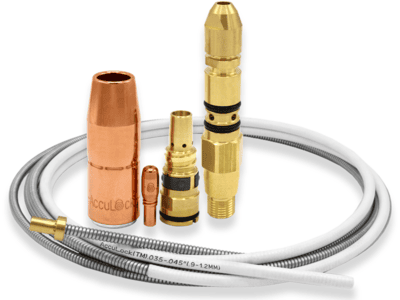 The large AccuLock S consumables offering now features a new slip-on diffuser, along with a copper 3/8-inch bore tapered nozzle.
Bernard has also added two new diffusers that allow small AccuLock S consumables to be installed easily, including thread-on and slip-on versions — plus compatible brass and copper nozzles with 5/8- and 1/2-inch bores and brass nozzles with 3/8-inch bores. A variety of tip recesses are available within the selection of nozzles.
In the case of the small or large AccuLock S consumable offering, the same nozzle can install onto either a thread-on or slip-on diffuser.
New tapered 'TT' series contact tips (0.350-inch O.D.) are available to accommodate wire diameters ranging from 0.023 to 1/16 inch and are compatible with both small and large AccuLock S diffusers and nozzles. The 'TT' series contact tips pair with tapered-profile nozzles to provide the same tip recess and better weld joint access. Like other contact tips in the system, the 'TT' series contact tips feature coarse threads that easily mate with the gas diffuser to reduce the risk of cross-threading and to speed replacement.
The AccuLock S consumables, introduced in early 2019, were designed to reduce downtime, troubleshooting and rework associated with errors in liner trim length and erratic wire feeding. The system concentrically aligns the liner with the power pin and contact tip, locking it in place for a flawless wire feeding path. Welders don't need to measure the liner during installation or replacement — they simply cut the liner flush with the back of the power pin for perfect liner trimming, every time.
In addition to contact tips, nozzles and gas diffusers, the AccuLock S consumables require an AccuLock S-specific liner, power pin and power pin cap.
# # #