Bernard Expands AccuLock S Consumables System
BEECHER, Ill. February 19, 2020 – Bernard has expanded its AccuLock™ S consumables system to include additional diffuser and nozzle types and sizes, as well as new contact tip options.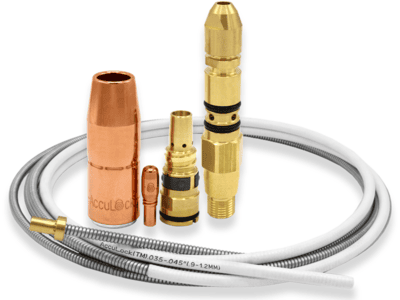 The large AccuLock S consumables offering now features a new slip-on diffuser, along with a copper 3/8-inch bore tapered nozzle.
Bernard has also added two new diffusers that allow small AccuLock S consumables to be installed easily, including thread-on and slip-on versions — plus compatible brass and copper nozzles with 5/8- and 1/2-inch bores and brass nozzles with 3/8-inch bores. A variety of tip recesses are available within the selection of nozzles.
In the case of the small or large AccuLock S consumable offering, the same nozzle can install onto either a thread-on or slip-on diffuser.
New tapered 'TT' series contact tips (0.350-inch O.D.) are available to accommodate wire diameters ranging from 0.023 to 1/16 inch and are compatible with both small and large AccuLock S diffusers and nozzles. The 'TT' series contact tips pair with tapered-profile nozzles to provide the same tip recess and better weld joint access. Like other contact tips in the system, the 'TT' series contact tips feature coarse threads that easily mate with the gas diffuser to reduce the risk of cross-threading and to speed replacement.
The AccuLock S consumables, introduced in early 2019, were designed to reduce downtime, troubleshooting and rework associated with errors in liner trim length and erratic wire feeding. The system concentrically aligns the liner with the power pin and contact tip, locking it in place for a flawless wire feeding path. Welders don't need to measure the liner during installation or replacement — they simply cut the liner flush with the back of the power pin for perfect liner trimming, every time.
In addition to contact tips, nozzles and gas diffusers, the AccuLock S consumables require an AccuLock S-specific liner, power pin and power pin cap.
# # #