Bernard and Tregaskiss to Showcase Products at FABTECH 2015 in Chicago
BEECHER, Ill./WINDSOR, Ontario. July 29, 2015 – Bernard and Tregaskiss have announced plans to attend FABTECH 2015 at McCormick Place in Chicago, November 9 to 12. To help companies improve productivity and quality, Bernard will showcase the latest in its semi-automatic MIG guns, fume extraction guns and consumables. Tregaskiss will feature its robotic MIG guns, peripherals and consumables. Both will share booth N14037 with Miller Electric Mfg. Co. and will feature select products on Miller power sources and robotic welding equipment for static and live demonstrations.
Products to be on display from Bernard include:
Bernard BTB MIG guns: This rugged and flexible product line allows users to build their ultimate MIG gun by selecting their desired amperage, handle, neck, power cable and more through a convenient online configurator. It builds on the best features from the former Bernard Q-Gun™, S-Gun™ and T-Gun™ MIG gun lines, and has been designed to provide industrial-grade performance and reliability.

Bernard Clean Air™ fume extraction gun: Designed to reduce welding fume and smoke, this durable gun is comparable in handle size and weight to a standard Bernard welding gun, making it more comfortable for welding operators to maneuver. The gun is an ideal option for helping create a clean, compliant and productive work environment when welding on medium- to heavy-duty solid or flux-cored wire applications.
Tregaskiss will feature products at the show including:
TOUGH GUN® CA3 robotic air-cooled MIG guns: Featuring a replaceable unicable that offers extended service life to reduce downtime and costs, this gun is a replacement for the TOUGH GUN G1 series MIG gun that maintains TCP with minimal or no robotic programming touch ups. The gun has been engineered for precision, durability, and easy maintenance, and also features an improved neck clamp that resists damage due to accidental over-torque. 
 
TOUGH GUN TA3 robotic air-cooled MIG guns: A direct replacement for the TOUGH GUN ThruArm™ G1 series MIG guns, these guns feature a re-engineered neck clamp to improve durability and consistency of clamping force on through-arm robotic systems. It is also available with additional standard neck options and includes a low-stress robotic (LSR) unicable that provides a rotating power connection to protect against damage from routine torsion. 
Accessories from Tregaskiss Extend Life of Popular TOUGH GUN TT3 Reamer, Complement Performance
WINDSOR, Ontario. July 16, 2015 — As a complement to the already reliable performance of the TOUGH GUN® TT3 reamer, Tregaskiss offers several accessories that are also designed to protect this peripheral. The TOUGH GUN reamer extends the life of robotic MIG guns and consumables by clearing the front end of spatter, helping to enhance productivity and improve weld quality in automated welding operations. Available accessories include: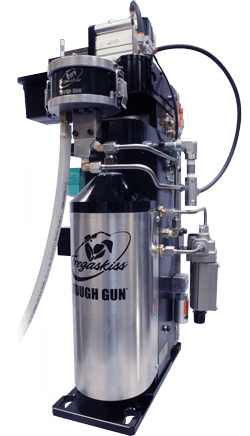 Lubricator: This dedicated motor lubricator is factory-set for optimal pneumatic oil lubrication and is ideal for damp environments. It can be ordered with a new TOUGH GUN TT3 reamer, which extends the Tregaskiss warranty from one year to three years, or retrofitted to an existing reamer.

Filter / regulator: The filter cleans the air supply to the reamer, while also restricting debris from reaching the motor, resulting in less contamination and a longer reamer life. The regulator helps ensure the unit receives optimal air pressure.

Spray containment unit: To improve air quality and help keep the weld cell cleaner, this unit captures anti-spatter overspray in its sealed basin, channeling it away from the unit to a convenient point of disposal, which can be shared among several Spray Containment units via an optional manifold.

TOUGH GUN wire cutter: The wire cutter removes the ball-end of the welding wire to provide smooth arc starts and consistent wire stick-out, and can be used on a variety of wire types up to 1/16 inch in diameter. The wire cutter features a unique carbide cutter blade design with eight indexable cutting surfaces.

Replacement cutter blades: These durable and accurate replacement cutting blades for the TOUGH GUN TT3 reamer feature a twin flute design for improved cutting and cleaning performance, all at a competitive price. They are made from harder, stronger material to increase resistance against breaking, snapping, chipping or cracking, and are designed to fit perfectly with TOUGH LOCK® consumables.

Tregaskiss v-block: Compatible with Tregaskiss consumables and competitive brands, this four-sided v-block ensures that the cutter is concentric with the consumables and nozzle bore so that the reamer can effectively clear spatter. Tregaskiss offers five available v-block options when users configure a new TOUGH GUN TT3 reamer.
New Automation Catalog Available from Tregaskiss
WINDSOR, Ontario. June 9, 2015 — Tregaskiss has announced the availability of its new Automation Catalog. Featuring the most up-to-date information on the company's robotic MIG guns, consumables and peripherals, the catalog has a fresh new look and easy-to-read format. 

The 22-page, full-color Automation Catalog includes information about the new TOUGH GUN® CA3 and TOUGH GUN TA3 robotic air-cooled MIG guns, including convenient configurator spreads. These pages reflect the online configurators offered by Tregaskiss, which allow users to customize a robotic MIG gun for their exact needs based on amperage, neck and cable styles, power pin, gun mount and more. The catalog also features a new foldout consumables reference chart that provides technical and compatibility information for popular nozzles, retaining heads and contact tips, along with details about TOUGH LOCK® consumables and other Tregaskiss consumable brands.

Other new additions to the Automation Catalog include information on:
TOUGH GUN TT3 reamer accessories: lubricator, filter/regulator, spray containment unit and v-blocks
QUICK LOAD® liner part numbers
AutoLength™ pin part numbers
Tregaskiss-Sponsored FIRST Robotics Team Attends World Competition
WINDSOR, Ontario. May 4, 2015 — A Tregaskiss-sponsored robotics team from Vincent Massey Secondary School of Windsor, Ontario, Canada, attended the FIRST Robotics World Championship in St. Louis on April 22 — a first-time appearance for the students at a world-level competition. The team, which consisted of 40 students in grades 9 to 12, competed against the world's best robotics teams, placing 44th out of 77 in their division (there were 600 teams total), and gaining valuable experience to take into competitions in 2016. Over 40,000 spectators attended the event.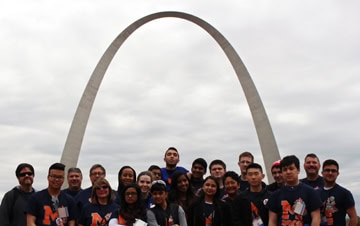 "The trip was such a positive experience for the students and the teachers/mentors, and we appreciate all the support we received along the way," said Sandra Chappus, robotics team mentor. "The students and the robot performed at their personal bests, so everyone is quite pleased. We're already looking to learn new technologies to take into competition next year."

Among those new technologies is pneumatics, a feature that a top-ranked team at the competition sought the Vincent Massey teams help with during the competition. Currently, the team is focused on mechanical, electrical, business/media and programming facets.

According to Tregaskiss Director of Operations Darren Grey, the company plans to continue its sponsorship of Windsor-area robotics teams in the future, and many employees have expressed an interest in mentoring students as they prepare their robots for competition next year.

"We consider programs like these to be an important investment in the students' futures," Grey said. "Tregaskiss is a natural fit to support automation technology and we are proud to be able to help."
Tregaskiss Sponsors Winning FIRST Robotics Team Headed to World Competition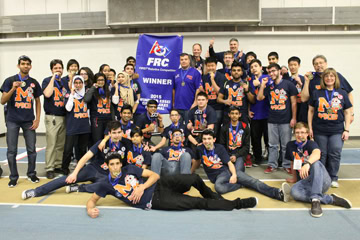 WINDSOR, Ontario. April 16, 2015 — Tregaskiss recently partnered with Vincent Massey Secondary School of Windsor, Ontario, Canada to sponsor their robotics team for the Windsor-Essex Great Lakes Regional FIRST Robotics tournament on April 2-3. The event featured 48 teams totaling more than 1,000 students. The Vincent Massey Robotics Team qualified for the finals, advancing the 40 students on the team (grades 9 to 12) to the FIRST Robotics World Championship in St. Louis on April 22, where Tregaskiss will also offer its sponsorship support.

"Our students are thrilled to have a chance to compete at such a high level after only the second year as a team," says Sandra Chappus, mentor for the Vincent Massey Robotics Team.
"The students' talent is definitely matched by their enthusiasm and they have exceeded their own expectations going into the FIRST event. We are thankful to all of our sponsors, including Tregaskiss, for their help. Without that support, the students wouldn't have such great opportunities."

Sandra Chappus, mentor for the Vincent Massey Robotics Team
"The FIRST Robotics competition allows students to immerse themselves in an initiative that mirrors industry in the real world," adds Darren Grey, director of operations at Tregaskiss. "Within a short timeframe and with a limited budget, they are tasked with designing and manufacturing a working robot to compete against teams from across the US and Canada. We consider our sponsorship an important investment in these students' futures — they are aspiring to be the engineers, technologists and scientists of tomorrow."

The Windsor-Essex Great Lakes Regional FIRST Robotics tournament consisted of robots competing to stack totes and recycling bins and maneuver pool noodles. Students spent six weeks building their robot and coding it for the task. The team is broken into four divisions — mechanical, electrical, business/media and programming — allowing students to focus their strengths on executing the task.