Accessories from Tregaskiss Extend Life of Popular TOUGH GUN TT3 Reamer, Complement Performance
WINDSOR, Ontario. July 16, 2015 — As a complement to the already reliable performance of the TOUGH GUN® TT3 reamer, Tregaskiss offers several accessories that are also designed to protect this peripheral. The TOUGH GUN reamer extends the life of robotic MIG guns and consumables by clearing the front end of spatter, helping to enhance productivity and improve weld quality in automated welding operations. Available accessories include: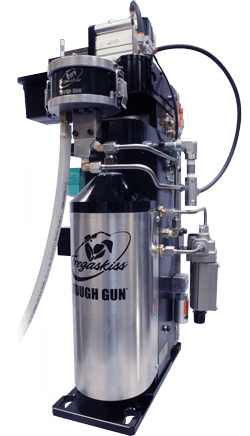 Lubricator: This dedicated motor lubricator is factory-set for optimal pneumatic oil lubrication and is ideal for damp environments. It can be ordered with a new TOUGH GUN TT3 reamer, which extends the Tregaskiss warranty from one year to three years, or retrofitted to an existing reamer.
Filter / regulator: The filter cleans the air supply to the reamer, while also restricting debris from reaching the motor, resulting in less contamination and a longer reamer life. The regulator helps ensure the unit receives optimal air pressure.
Spray containment unit: To improve air quality and help keep the weld cell cleaner, this unit captures anti-spatter overspray in its sealed basin, channeling it away from the unit to a convenient point of disposal, which can be shared among several Spray Containment units via an optional manifold.
TOUGH GUN wire cutter: The wire cutter removes the ball-end of the welding wire to provide smooth arc starts and consistent wire stick-out, and can be used on a variety of wire types up to 1/16 inch in diameter. The wire cutter features a unique carbide cutter blade design with eight indexable cutting surfaces.
Replacement cutter blades: These durable and accurate replacement cutting blades for the TOUGH GUN TT3 reamer feature a twin flute design for improved cutting and cleaning performance, all at a competitive price. They are made from harder, stronger material to increase resistance against breaking, snapping, chipping or cracking, and are designed to fit perfectly with TOUGH LOCK® consumables.
Tregaskiss v-block: Compatible with Tregaskiss consumables and competitive brands, this four-sided v-block ensures that the cutter is concentric with the consumables and nozzle bore so that the reamer can effectively clear spatter. Tregaskiss offers five available v-block options when users configure a new TOUGH GUN TT3 reamer.