Tregaskiss-Sponsored FIRST Robotics Team Attends World Competition
WINDSOR, Ontario. May 4, 2015 — A Tregaskiss-sponsored robotics team from Vincent Massey Secondary School of Windsor, Ontario, Canada, attended the FIRST Robotics World Championship in St. Louis on April 22 — a first-time appearance for the students at a world-level competition. The team, which consisted of 40 students in grades 9 to 12, competed against the world's best robotics teams, placing 44th out of 77 in their division (there were 600 teams total), and gaining valuable experience to take into competitions in 2016. Over 40,000 spectators attended the event.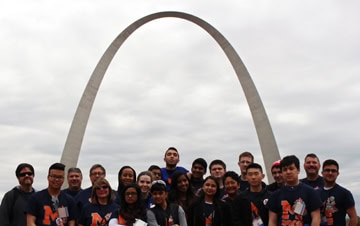 "The trip was such a positive experience for the students and the teachers/mentors, and we appreciate all the support we received along the way," said Sandra Chappus, robotics team mentor. "The students and the robot performed at their personal bests, so everyone is quite pleased. We're already looking to learn new technologies to take into competition next year."
Among those new technologies is pneumatics, a feature that a top-ranked team at the competition sought the Vincent Massey teams help with during the competition. Currently, the team is focused on mechanical, electrical, business/media and programming facets.
According to Tregaskiss Director of Operations Darren Grey, the company plans to continue its sponsorship of Windsor-area robotics teams in the future, and many employees have expressed an interest in mentoring students as they prepare their robots for competition next year.
"We consider programs like these to be an important investment in the students' futures," Grey said. "Tregaskiss is a natural fit to support automation technology and we are proud to be able to help."