NEW PRODUCT —
Tregaskiss Power Pin for Fronius VR1500 Wire Feeders
July 1, 2009
Tregaskiss has designed a power pin (part #214-41) that can be used in place of the actual Fronius® Power Pin for the VR15000 wire feeder.
This new power pin is compatible with Tregaskiss TOUGH GUN® robotic and automatic MIG guns and Bernard® T-Gun™ semi-automatic MIG guns (formerly Tregaskiss TOUGH GUN semi-automatic MIG guns).
Threads into all Tregaskiss unicables (except Euro) and is the standard Fronius power pin for TOUGH GUN ThruArm™ series robotic MIG guns
Compatible with Motoman® unicables on teh EA/SSA Series robots
Designed specifically for use with QUICK LOAD® liners
A liner cap adaptor (part #214-41-3) is also available for upgrading existing Fronius power pins to the QUICK LOAD liner system.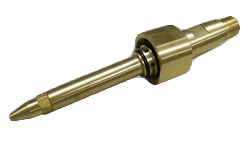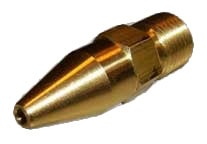 Fronius wire feeders can come with several types of connections. The following chart indicates the recommended Tregaskiss power pin solution for each:
| Fronius® Feeder Connection Type | Tregaskiss Part Number |
| --- | --- |
| Fronius "North America" Power Pin | 214-17 |
| Tweco® #4 | 214 |
| Euro Connection | Euro |
| Fronius Power Pin #4.045.848.638 for VR1500 Feeder | 214-41 |
| Fronius F++ | Not Available |