NEW PRODUCT —
Tregaskiss Power Pin Connection for Cloos Wire Feeders
June 8, 2009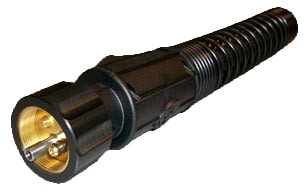 Tregaskiss is pleased to offer a new power pin connection for Cloos® SZ-style wire feeders. This is a complete connection (similar to our Euro style MIG guns) which can be ordered on Tregaskiss® TOUGH GUN® robotic and automatic MIG guns and Bernard® T-Gun™ semi-automatic MIG guns (formerly Tregaskiss TOUGH GUN semi-automatic MIG guns). Robotic applications will also require an external cord set for the clutch.
NOTE: This connection is compatible only with a QUICK LOAD® liner.
Ordering Information
This product is considered a Special Product and has a 15-day lead time, and is available as a product upgrade from a power pin or Euro (part #678C), or on a NEW Special Gun (SG) from Tregaskiss (various SG numbers).