Fume Extraction Gun Offering Expands, Adds Improved Features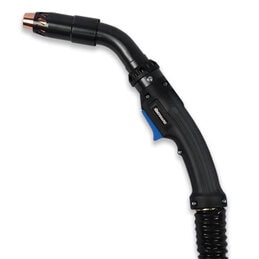 BEECHER, Ill., April 3, 2018 – Bernard has announced changes to its fume extraction gun offering. Effective immediately, Bernard® FILTAIR™ fume extraction MIG guns are transitioning to the Bernard Clean Air™ brand name and will become Bernard Clean Air curved handle series fume extraction MIG guns. In addition, several upgrades have been made to the former FILTAIR fume extraction guns.
"This transition offers improved functionality, performance and ease of maintenance to our fume extraction guns — to bring flexibility and value to users," said Jerome Parker, product manager, Bernard.
Designed to produce a cleaner, more compliant work environment, Clean Air fume extraction guns are ideal for large weldments and confined space welding applications, and they range in models from 300 to 600 amps. The name change was made due to feature and performance similarities between the two gun offerings.
In addition, several upgrades from the Clean Air gun line are now available for the former FILTAIR gun models, including:
• Reduced overall weight, stemming from the eliminated need for a protective cover thanks to a new high-performance, crush- and snag-resistant extraction hose.
• Adjustable nozzle shroud with a front vacuum chamber that adjusts to one of four positions for optimized fume capture, gas flow and weld access.
• Additional neck options of 30-, 45- and 60-degrees are now available for the curved handle model.
• Inclusion in the Clean Air gun online configurator with expanded options. The curved handle guns are now available with Centerfire™, Quik Tip™ and TOUGH LOCK® consumables and are compatible with QUICK LOAD® liners and the QUICK LOAD liner AutoLength™ system.
Along with the name change, the FILTAIR gun part numbers have been converted to Clean Air gun part numbers for a seamless transition. Legacy products can be identified from updated products by visible changes in neck and shroud color. The fume extraction components that previously were chrome now have a black finish.
Learn more about Clean Air fume extraction MIG guns, or configure you gun today.