Tregaskiss Expands Robotic MIG Welding Gun Offering
WINDSOR, Ontario. September 11, 2018 — Tregaskiss has expanded its TOUGH GUN® TA3 robotic air-cooled MIG gun offering to include configurations for additional through-arm style robot models in the marketplace. These include: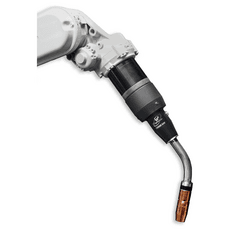 FANUC® 100iD
KUKA® KR6 R1820HW, KR8 R1420HW, KR8 R1620HW and KR8 R2100HW
Yaskawa® Motoman® AR1440, AR1720 and AR2100
In addition to being fully customizable according to robot make and model, most TOUGH GUN TA3 robotic MIG guns can be configured with the desired solid or clutch mount/wire brake/air blast combinations, neck, nozzles, contact tips and more at Tregaskiss.com/ConfigureMyGun.
The guns have been designed with precision and reliability in mind and feature the unique low-stress robotic (LSR) unicable, which incorporates a rotating power connection for stress-free rotation that helps extend the life of the cable. A specially engineered neck clamp improves the consistency and durability of the clamping force, while a wide selection of standard necks expands the tool center point (TCP) options and variety of working envelopes.
The TOUGH GUN TA3 robotic air-cooled MIG guns are compatible with Tregaskiss® consumables and with the QUICK LOAD™ liner AutoLength™ system — a system that helps rectify wire feeding and quality issues associated with incorrect liner length. Housed inside the power pin, the spring-loaded module applies constant forward pressure on the liner, keeping it seated properly in the retaining head and allowing up to one-inch forgiveness if the liner is too short.
Bernard and Tregaskiss to Display Products, Host Live Welding at FABTECH 2018
BEECHER, Ill./WINDSOR, Ontario. July 17, 2018 – Bernard and Tregaskiss announced the companies will showcase their products at FABTECH 2018 in Atlanta from November 6 to 8 in booth C12828. Bernard semi-automatic MIG guns and consumables will be on display and also featured in live welding demonstrations with power sources from Miller Electric Mfg. LLC. Tregaskiss will showcase its robotic MIG guns, consumables and peripherals and feature them in Miller pre-engineered automated welding cells. Welding demos will feature Hobart filler metals.

The companies will have representatives available to answer questions and plans to unveil new products for the fabrication and manufacturing industries.
Fume Extraction Gun Offering Expands, Adds Improved Features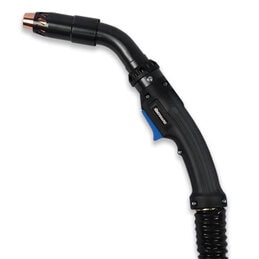 BEECHER, Ill., April 3, 2018 – Bernard has announced changes to its fume extraction gun offering. Effective immediately, Bernard® FILTAIR™ fume extraction MIG guns are transitioning to the Bernard Clean Air™ brand name and will become Bernard Clean Air curved handle series fume extraction MIG guns. In addition, several upgrades have been made to the former FILTAIR fume extraction guns.

"This transition offers improved functionality, performance and ease of maintenance to our fume extraction guns — to bring flexibility and value to users," said Jerome Parker, product manager, Bernard.

Designed to produce a cleaner, more compliant work environment, Clean Air fume extraction guns are ideal for large weldments and confined space welding applications, and they range in models from 300 to 600 amps. The name change was made due to feature and performance similarities between the two gun offerings.

In addition, several upgrades from the Clean Air gun line are now available for the former FILTAIR gun models, including:

• Reduced overall weight, stemming from the eliminated need for a protective cover thanks to a new high-performance, crush- and snag-resistant extraction hose.

• Adjustable nozzle shroud with a front vacuum chamber that adjusts to one of four positions for optimized fume capture, gas flow and weld access.

• Additional neck options of 30-, 45- and 60-degrees are now available for the curved handle model.

• Inclusion in the Clean Air gun online configurator with expanded options. The curved handle guns are now available with Centerfire™, Quik Tip™ and TOUGH LOCK® consumables and are compatible with QUICK LOAD® liners and the QUICK LOAD liner AutoLength™ system.

Along with the name change, the FILTAIR gun part numbers have been converted to Clean Air gun part numbers for a seamless transition. Legacy products can be identified from updated products by visible changes in neck and shroud color. The fume extraction components that previously were chrome now have a black finish.

Learn more about Clean Air fume extraction MIG guns, or configure you gun today.
Bernard and Tregaskiss Earn Stringent Quality Certification
BEECHER, Ill./WINDSOR, Ontario. Feb. 19, 2018 – Bernard and Tregaskiss have earned upgrades in their quality certifications. The quality management systems of both Bernard and Tregaskiss for the design, manufacture and service of semi-automatic and robotic welding guns, respectively, have been registered to Quality System Standard ISO 9001:2015, as have components and related accessories.

The ISO 9001:2015 standard sets out the criteria for a company's quality management system and using the standard helps ensure that an organization's customers receive consistent, high quality products and services. The standard is based on several quality management principles, including a strong customer focus, the motivation and implication of top management, the process approach, risk assessment, and continual improvement.

The International Organization for Standardization (ISO) develops international standards such as ISO 9001 and is an independent, international agency with a membership of more than 160 national standards bodies. Bernard was previously certified to the ISO 9001:2008 standard in 2014 and Tregaskiss was certified to that standard in 1996 before upgrading to ISO 9001:2015 in recent months.

"Our certification illustrates our dedication to our products around the globe and is just another reason why our customers know that they can always trust Bernard to provide the welding guns and consumables they require to achieve their goals," said Nashonne Newman, quality engineer, Bernard.

"This standard involves documented operating procedures, internal and third-party audits, management review, and advanced product quality planning — all to ensure that Tregaskiss products meet a very high standard of quality, safety and reliability for customers," said Jatinder Singh, quality engineer, Tregaskiss.