Taylor Forklift Operation Reduces Downtime, Costs with Bernard
Taylor Machine Works Inc. has spent over 90 years building a reputation by engineering and producing exactly what its customers need. The company manufactures more than 85 models of powered industrial trucks, including forklifts and material handling equipment for a range of industries.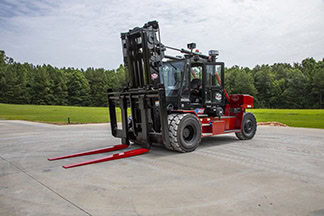 "We manufactured roughly 750 pieces of rolling stock last year and 40 percent to 50 percent of that is highly customized," said Matt Hillyer, director of engineering for Taylor, based in Louisville, Mississippi. "Our job is to build products that answer the customer's needs."
Taylor's "Big Red" forklifts, featuring the company's distinctive "Big Red" logo, can handle material weighing up to 125,000 pounds — everything from palleted goods and empty shipping containers in waterfront shipyards to equipment encountering brutal hot and cold environments. Many of Taylor's customers are small operations with from one to three pieces of equipment. Just one piece going out of service reduces production capacity by a large percentage.
"Having high durability, high return on investment and low cost of ownership, those are all very imperative to our customers to make them successful," said Hillyer. "It's important for us not only to make custom products that are advanced in technology or state-of-the-art, but we also have to make products that are very simple, easy to work on and have lots of uptime. That's what our customers are looking for."
Taylor employs some of the best welders in the business to meet those customer demands, but even great welders can't overcome their tools' limitations. When Taylor decided to try Bernard® semi-automatic MIG guns and Centerfire™ consumables, they discovered their talented team could take productivity up a few notches —and still gain the best quality.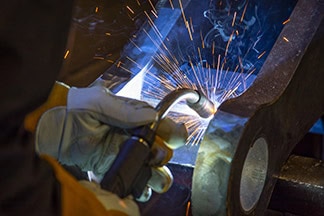 Making the change
According to Taylor, sometimes it takes trying a new technology to realize what you've been missing. That was the case with the Bernard products — the manufacturers of the Big Red material handling machines had a business epiphany.
"Before we changed to Bernard welding products, we didn't really know we were having a problem," said Steve Nazary, quality assurance supervisor at Taylor. "When we started using Bernard [MIG guns and consumables], we found that they were much easier and more economical to use for our process."
Bernard semi-automatic MIG guns at 400, 500 and 600 amperages delivered more business benefits.
Savings on service repair. "We can replace the liners, the tips, the nozzles" Nazary explained. "You can replace everything on a Bernard gun instead of throwing it away and buying a new one." The previous guns Taylor used could not be repaired and components weren't replaceable, resulting in increased costs for new purchases for their large manufacturing operation.
Productivity-boosting ergonomics. "The Bernard MIG guns have a better handle on them," Nazary said. "It fits your hand better. It has an easier trigger to pull. It doesn't get as hot as the guns we were using before. We were using some handles before that got so hot, you couldn't hold them anymore."
"Those twisty necks, as I call them, we can loosen them and change the angle to get in harder places. And you can reset them back straight, turn them on any angle. The employees love them."

Craig Callahan, Quality Control Welding Inspector
Easier-to-use rotatable necks. Guns with multiple neck position options that are all easy to adjust let Taylor welders operate comfortably and precisely in more situations. Rather than turning the entire gun to get the right position to reach a weld joint, welders simply adjust just the neck of the gun to a better angle.
Nazary added that it's also easy to change necks on the Bernard MIG Guns to reach into tighter spaces. "We have multiple necks and they only take two or three seconds to swap them out," he said.
Centerfire™ consumables also proved to last much longer than products Taylor had used previously, reducing the need to change contact tips from multiple times per day to just once a day, on average. These consumables feature a non-threaded contact tip that is tapered at the base to seat easily in the gas diffuser. The result is better heat dissipation and a longer life. Plus, they are quick to change over.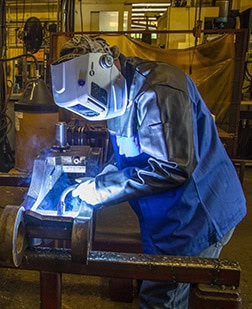 "We can change the Centerfire consumables with ease. We don't have to have tools. You just twist the nozzle off, pull it off and pop another contact tip in and twist the nozzle back on," said Nazary.
Centerfire consumables also provide better gas flow for better welds and less rework.
"With the other consumables that we were using, you would get different gas flows," said Nazary. "With the Bernard products, we have consistent flow all the time."

Helping Taylor Machine Works serve customers
All the advantages found by using Bernard semi-automatic MIG guns and Centerfire consumables align perfectly with Taylor's commitment to quality and meeting the customer needs. And the reliability of the products fits well with the company's slogan: "Depend on Red."
"It's absolutely imperative to make our products successful for the customer," said Hillyer. "We also look to our suppliers, like Bernard to provide us with the best technology. They help us incorporate the right technology to make sure that we do have the most durable truck on the market."