Manufacturer Cuts $45,000 of Costs With New MIG Welding Guns and Consumables
General Kinematics — a premier manufacturer of vibrating equipment for processing bulk materials — has been providing consistent, on-time and innovative solutions to its customers for more than 60 years. The company prides itself on offering rugged, cutting-edge equipment to manage difficult-to-process materials across the mining, resource recovery, bulk processing and foundry industries.
A reputation for design leadership and creating tailored technical advancements sets the company apart from the competition, as does its commitment to providing excellent service.
This 200-person, Crystal Lake, Ilinois-based company doesn't have time for slowdowns, especially in the welding operation. In recent years though, General Kinematics noticed exactly that. It was experiencing repeated MIG gun breakdowns and excessive contact tip consumption that slowed production.
"Between costs and repairs and lost labor from the welders having issues that stopped their progress, we estimated around $45,000 a year in costs from these issues," said Jason Jerik, plant manager at General Kinematics.
That's when Jon Strug, the company's maintenance tech, approached their welding distributor, Steve Schuette of Weldstar in Aurora, Illinois, for a solution. Schuette recommended a trial of Bernard BTB air-cooled MIG guns with AccuLock™ S consumables.
Considering the change
Problems with the water-cooled MIG welding guns at General Kinematics were at the heart of its need for a new solution.
"The guns were definitely our main issue with maintenance for Jon," said Joel Jacobson, director of manufacturing. "It was tough to keep up to the demands of the hoses breaking, the wires breaking internally in the guns, tips burning out, liners and such."
Jerik added, "The last time we calculated from a dollar standpoint it translated to about five to seven hours a week in lost time just with liner issues. It was that frequent."
The team, along with Schuette, took a slow and thorough approach to testing the Bernard air-cooled BTB MIG welding guns and consumables, making sure that the products performed as expected. They worked first with some sample guns in standard sizes and leads and had different welders try them for a week each.
"We would test a week with one fitter, a week with one welder, and then we'd move them around to see what kind of acceptance we would get with them," said Jacobson.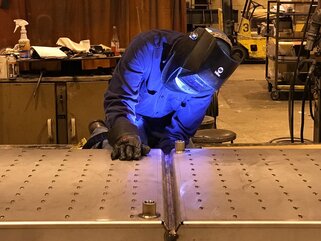 General Kinematics welds a variety of materials — from A-36 steel to AR-500 plate — in thickness up to eight inches and on a variety of joints. Welding operators also weld both large and small weldments and use different welding wire diameters. The guns and consumables needed to be versatile enough to manage these jobs and produce the quality needed to adhere to the American Welding Society (AWS) D.1.1 Structural Welding – Steel code. They also had to be the right equipment for the company's welding operators.
Jacobson and Jerik regularly met with the welding operators to request feedback during the trial.
According to Jerik, welding operators saw noticeably less consumable consumption. However, they wanted to change the angle on the neck of guns to gain better access to some difficult joint configurations. They worked back and forth with Bernard to determine a different angle of the neck that suited their needs.
"We wanted to do a thorough run of testing and vetting out to decide 'Is this the right product for us? Are we going to get that buy-in from our welding operators?'" he said.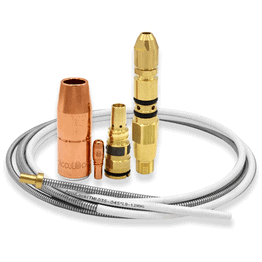 Ensuring that welding operators liked the MIG welding guns and consumables was a critical part of the testing General Kinematics conducted. The company has a culture of empowerment and wanted its welding operators to be heard and to contribute their opinions.
"We think it's important to get our welders involved early in the process," said Jacobson. "Not everyone likes change, but getting them involved in testing up front can help show the long-term benefits."
"I'm huge on that," Jerik added. "I'd rather not force and push a change onto a team. I'd
rather them accept it and make it their own."
After eight months of testing, processing feedback and making adjustments, General Kinematics made the decision to convert to the Bernard BTB air-cooled MIG guns and AccuLock S consumables.
The benefit of the investment
General Kinematics invested in 400-amp BTB air-cooled MIG guns for its 40 welding operators, as well as several 450-amp Bernard water-cooled guns — all with the same AccuLock S consumables. Bernard built the company a special neck for its water-cooled guns to provide better ergonomic access to typical weld joints, and these guns are the first of their kind ever to be configured with the AccuLock S consumables.
So, what finally sold General Kinematics on the Bernard products? In short, durability and performance.
The reduction in gun maintenance was key. Strug no longer has to contend with leaking water-cooled guns or liner issues that need fixing — and the new guns and consumables are less frustrating for the welding operators, who can now spend more time being productive.
"We have a whole lot fewer repairs. Before it was constantly, every month, seven guns I had to send out to get repaired or I had to repair them myself," said Strug. "It's a huge difference in quality — night and day."
This durability and performance result from a combination of the rugged construction of the BTB air-cooled MIG guns — which were configured according to the handle, neck, trigger and cables the company needed — and the liner that is part of the AccuLock S consumables system.
Bernard designed the liner in the system for error-proof replacement by eliminating the need to measure it prior to installation. Instead of the liner loading from the back, like many competitive guns, the AccuLock S liner loads in the neck at the front of the gun and then locks in place so it can be trimmed flush with the power pin. This prevents the liner from being trimmed too short or too long.
"I like the liners," said Strug. "They last a lot longer and I definitely like the quality of them."
According to Jacobson, another selling point was that AccuLock contact tips run significantly cooler than the company's previous ones so there is less consumption and downtime for changeover.
That's due to the design of the tip and gas diffuser. Sixty percent of the welding contact tip is buried in the gas diffuser, which protects it from heat damage, and the shielding gas also cools the contact tip tail as it flows through the gun. AccuLock consumables have a tapered design that locks the tip, gas diffuser and nozzle tightly together to further reduce electrical resistance and lower heat buildup.
Jacobson likes the ability to reduce costs by having equipment that lasts longer. And both the air- and water-cooled MIG welding guns use the same AccuLock S consumables, which helps reduce inventory management.
The welding operators like that the guns and consumables run cooler and help reduce spatter, so there is less cleanup.
The long-term benefits
For General Kinematics, making the change to the Bernard BTB guns and AccuLock S consumables is just another way the company commits itself to quality. But there has been more to the conversion than that.
General Kinematics was able to gain a return on investment in approximately 12 to 14 months. And while there are still labor and equipment costs for gun and consumable maintenance, the conversion has eliminated the $45,000 in extra spending to address previous issues with the water-cooled guns.
The products have also helped its welding operators achieve approximately 10% more productivity by eliminating downtime. That's important to the welding operators and to Jerik.
"When it comes down to it, do these products make their job easier? Do they make them more productive?"
The answer to both is yes.