PRODUCT IMPROVEMENT —
Electronic Check Valve and Mounting Bracket Added to the TOUGH GUN TT3 Reamer
August 11, 2014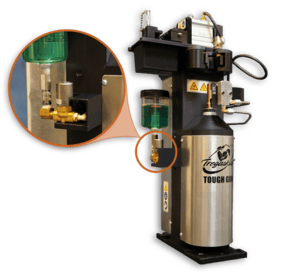 An electronic check valve and mounting bracket have been added to the TOUGH GUN® TT3 reamer. This improvement provides added protection against leakage from the sprayer reservoir.  
Since this addition affects the wiring slightly, updated wiring diagram instructions are provided with every affected unit.
A TOUGH GUN TT3 reamer sprayer valve retrofit kit (part #TT3-500R) is available for units manufactured prior to August 11, 2014.
How Do I Know If I Need to Retrofit My Reamer?
If your TOUGH GUN TT3 reamer:
has a spray head that pools or leaks anti-spatter once the system is primed;
has an elevated multi-feed / bulkfeed source (drum / pail located on top of the mezzanine);
is mounted on an angle (baseplate is not parallel with the floor);
you will require the TOUGH GUN TT3 reamer sprayer valve retrofit kit #TT3-500R to fix any issues that you may be experiencing. Installation of this kit should take approximately 15 minutes.
Click here for complete step by step installation instructions.