AccuLock R Consumables Reduce Downtime in Robotic Welding
In many cases, equipment-based solutions can be a means to gain success in the robotic welding operation. They can mitigate costly risks and eliminate issues that lead to inefficiencies. And often, these issues are related to a small but significant part of the robotic welding process — the welding consumables.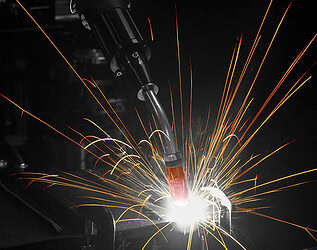 Changing over consumables can be a time-consuming part of maintaining the welding cell, especially if it is done multiple times during a shift. Changeover can also negatively impact productivity and quality if the consumables are installed incorrectly. Unfortunately, given the industry's current lack of skilled welders, that may be a common occurrence. Welders simply have less experience with proper installation processes. To address this problem, many companies tend to spend more time and money on training and troubleshooting. They may even have to find workarounds to problems in the weld cell as employees get up to speed. All of this occupies resources.
Consumable challenges
Welding consumables — the contact tip, gas diffuser and nozzle — can be a major source of downtime in robotic welding operations, unplanned or planned.
During installation, cross-threading of contact tips by less experienced welders is a common occurrence that can result in unplanned downtime. Cross-threading leads to multiple problems beyond the lost productivity for contact tip changeover.
First, it can negatively affect tool center point (TCP), causing the robot to weld off-seam and create quality issues like lack of fusion or poor penetration. Personnel overlooking the robotic welding cell then need to stop production to address rework and/or scrap the part.
Cross-threading can also create a keyhole, or uneven wear, in the bore of the contact tip. A keyhole the size of only half the diameter of the wire can result in the robot welding off-seam.
Many times, a cross-threaded contact tip will stick inside the welding gas diffuser. Without another gas diffuser readily available, the operator has to make a trip to the tool crib for a new one. Meanwhile the robot is offline and not producing parts. Plus, a company incurs costs for both the contact tip and the diffuser's replacement.
Companies that invest in power sources with a pulsed waveform capability — particularly in the automotive industry — often schedule planned downtime. Pulse waveforms improve productivity and quality by increasing travel speeds, providing a more consistent arc and reducing spatter. However, the pulsing action of the arc electrically and mechanically erodes the contact tip, leading to faster wear. It is necessary to plan downtime as a preemptive strike against contact tip failures before the chance of associated weld quality issues arise.
Both unplanned and planned downtime cost money and occupy available labor for non-value-added activities — tasks that don't support throughput and productivity.
There is a new welding consumables technology that can help.
A new consumables solution
To address the issue of cross-threaded contact tips, Tregaskiss designed its AccuLock™ R consumables. The design is intended to support higher throughput, provide a long service life and ensure good weld quality.
The AccuLock contact tip features a long tail that concentrically aligns within the diffuser before the threads engage. The threads are also coarse, so they require minimal rotations to install. This design virtually eliminates the risk of cross-threading and provides three key benefits to the robotic welding operation:
It decreases the length of unplanned downtime for retrieving a replacement welding gas diffuser after cross-threading.
It reduces quality issues from cross-threading, such as off-seam welds or poor joint penetration.
It lessens unplanned downtime for troubleshooting.

The contact tips also have greater mass at the front compared to other designs, along with a taper that mates securely with the gas diffuser. The tapered surfaces ensure optimal conductivity, reduce heat and keep the consumables locked in place. These features — combined with the fact that 60% of the contact tip is buried in the diffuser, away from the heat of the arc — make the consumables last longer. Extending the product life means there is less need for changeovers.
AccuLock R consumables can also address the accelerated wear of contact tips caused by pulsed waveforms. In addition to offering the contact tips in copper and chrome zirconium, Tregaskiss has an AccuLock HDP option. The HDP contact tips last more than 10 times longer than copper tips in pulsed MIG welding applications. As a result, companies can reduce unplanned downtime for contact tip changeover — and make those changeovers faster because of the easy-to-install design.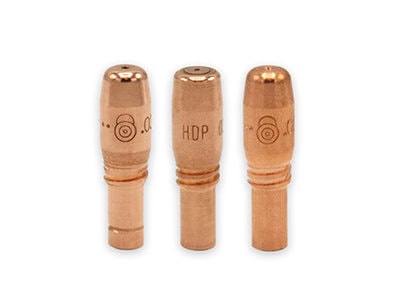 AccuLock R consumables can be implemented easily. Switching from many other consumables typically doesn't affect TCP or robotic programming; however, it is best to consult directly with Tregaskiss to confirm this is the case.
For companies that have both robotic welding and semi-automatic welding operations, the AccuLock R consumables can simplify complex inventories. The contact tips are part of a Common Consumable Platform™ and can be used across a wide range of Tregaskiss® robotic and fixed automatic MIG guns, as well as with Bernard® semi-automatic MIG guns (ranging from 200 to 600 amps). This common contact tip can reduce inventory costs and lessens the opportunity for operators to install the wrong consumable. The AccuLock R gas diffuser also has a blue o-ring to distinguish it from other diffusers.
Making the change
When companies find equipment solutions, like the AccuLock R consumables, that help reduce troubleshooting and downtime in their robotic welding operations, opportunities can increase. The ability to improve productivity and quality is at the forefront of those. But there may also be more time available to optimize the weld cell, make positive changes to workflow or material handling and seek out cost savings.In some cases, companies may also uncover issues in the weld cell that were previously masked by frequent contact tip changeovers. Now, however, there is more time address those to generate greater efficiencies in the operation.
In short, with the right consumables, there is more time to focus on reaching improvement targets and increasing throughput — and on implementing training that can help achieve those goals.