Partners In Growth
Miller Welding and Machine Turns to Bernard for MIG Guns and Consumables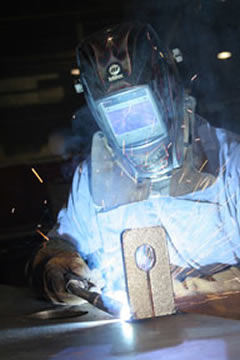 Rapid growth is a problem many companies would love to have. Those that experience it, however, must properly manage that growth in order to maintain profitability and avoid the potential pitfalls of taking on more work than they are equipped to handle.
Communications systems, training protocols, material flow and inventory management are just a few of the areas that Miller Welding and Machine Co., Brookville, Penn., has refined over the last 1 1/2 years as its workforce nearly doubled and it expanded from one to three manufacturing facilities.
As a subassembly fabricator for top-tier OEM manufacturers of cranes, aerial work platforms, mining and other heavy equipment, Miller produces dozens of different components across 140 semi-automatic welding cells and 10 robotic cells.
From an inventory management perspective, fabricating and welding such a wide variety of products has required Miller to standardize their applications as much as possible on the same tools and equipment. Minimizing operator downtime and maintenance costs has also been essential to managing their rapid growth.
Miller addressed all of those challenges with the help of Bernard Centerfire™ consumables and Q-Gun™ MIG guns. Centerfire consumables have reduced operator downtime and allowed the company to standardize all of its welding guns, regardless of brand, on one set of consumables. Bernard's Q-Gun line of MIG guns also has reduced operator downtime and lowered the company's maintenance costs through a combination of durability and time saving technology.
From Humble Beginnings
Founded in 1962 as a small welding and machining shop serving the needs of the Pennsylvania steel industry, Miller Welding and Machine has grown into a major component fabricator with nearly 500 employees and state-of-the-art manufacturing facilities.
"Taking advantage of technological advances has been one of the keys to our success," explains Dave Miller Sr. "Not long after I started the business, a welding distributor told me about a new technology called wire welding. It seemed to be a natural fit for some large welds we were doing, so we jumped into the wire feeding business and never looked back."
Today, Miller's son, Dave Miller Jr., serves as company president and continues his father's tradition of using technology to achieve process and product improvements.
Inventory Management
One of the technologies heralded by Dave Miller Jr. has been the addition of vending machine-style inventory management systems from which nearly all of the company's consumables are distributed.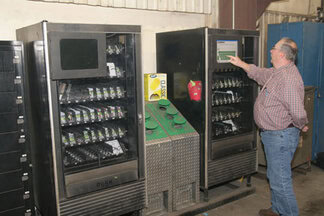 The use of these systems, combined with standardizing the company's operations on Centerfire consumables, has reduced inventory costs and simplified the company's inventory control procedures.
The vending system requires employees to enter a unique employee number and then the part number of the consumable they need. The machine then records the information and dispenses the products. Miller uses nine of these vending machines throughout its three plants, each of which is linked in to a mainframe computer that tracks nearly all of its consumable products, including fasteners, batteries, grinding wheels and more.
To further simplify the stocking, tracking and ordering system, Miller also sought to reduce as much as possible the number of welding consumables they carried. Bernard's Centerfire consumables fit perfectly with this goal.
Because Centerfire consumables — diffusers, contact tips and nozzles — are able to be installed on most major brands of MIG guns through the use of conversion parts, Miller was able to stock one set of welding consumables in the vending systems for the three different brands of MIG guns used throughout the plant.
Standardizing on one brand of welding consumables has reduced the potential for operators to select the wrong consumable for their gun, simplified the purchasing department's inventory tracking and ordering processes and reduced the amount of space that their welding consumables consumed in the vending system by 66 percent.
"It keeps everything simple," explained Production Manager Dave Moore. "We're in the welding and fabrication business, not inventory management, so anything we can do to reduce the amount of time and money spent managing our welding consumables inventory is time and money we can devote to our core competencies."
Reduced Downtime, Improved Quality
The key to managing Miller's growth has been the Centerfire system's unique design, which has reduced operator downtime, increased consumable service life and offered excellent weld quality and consistency.
The Centerfire system features non-threaded contact tips that fit securely in the diffuser and lock into place without the use of tools. This allows operators to change contact tips in about half the time it takes to change out a threaded tip.
At an average of 1 minute per tip change, and 2.5 tip changes per welding cell per month, Miller saves roughly six man-hours each month just in the time it takes to change the contact tips.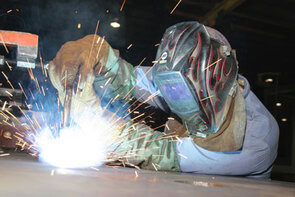 The Centefire system further reduces operator downtime by requiring fewer changeovers. Miller averages over 240 man-hours per contact tip, compared to most brands, which need to be changed an average of every 24 – 48 man hours.
"At one of our facilities we have about 80 arcs running two 10-hour shifts plus an eight-hour shift on Saturdays. They weld material anywhere from 1/4-in. — 2-in. and they put down over 30,000 pounds of wire a month. For all that, they usually go through about 200 contact tips per month," Moore said, "so we're very satisfied with the performance and durability of the Centerfire tips."
Guns that Stick
Like all of its equipment and tools, Miller's use of Bernard Q-Guns is a decision based on what works rather than brand loyalty. The company initially received the guns as part of a package with their wire feeder purchases, so, as Moore puts it, "we weren't about to throw them in the trash and put something else on."
If the Q-Guns hadn't performed up to the company's standards, however, "we'd have run them until they died, trashed them and replaced them with something else," Moore said.
But they did perform well, and the company has converted nearly all of its hand-held MIG welding to Bernard Q-Guns. The company has been very satisfied with a different brand of guns for its robotic applications, and there are still a few hand-held guns of a third brand that are still in service, but will be replaced with Q-Guns once they wear out.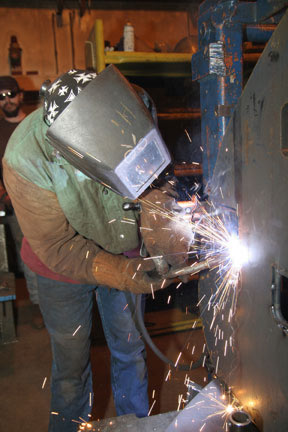 "These guns have been very cost effective for us," Moore said. "They hold up well, the repair and replacement costs are very reasonable and they offer a wide variety of configurations, so we can get the exact gun that we need for all of our applications."
Miller uses 400-amp Q-Guns with a short neck angled at 45 degrees and mostly 15-foot cables, which the company is able to customize 24 hours a day through Bernard's online Configurator. The Configurator can then be used to order the customized gun through the company's preferred welding distributor.
They also take advantage of the available Bernard Jumpliner™, which allows operators to reduce the time it takes to replace a worn liner from an average of about 20 minutes down to around 90-seconds. The Jumpliner is a replacement liner that allows operators to only replace the most frequently worn out portion of the liner — the section leading from the consumables back through to the gun's handle — rather than replacing then entire liner when only a small section is worn out.
Just as importantly, Miller encountered virtually no resistance from its welders. "There wasn't really an adjustment period in getting used to the new guns," Turntable Welder Brody Speer said. "The guns are lighter and more maneuverable than other products we've used, so they were well received right from the start."
With a welding system in place that allows Miller Welding and Machine to handle nearly any type of welding job without changing the guns, consumables, wire or processes they use, the company has used technological advancements to position itself to manage the growth they've already experienced, and also to continue growing into the future.