Improving Welding Automation Safety With Risk Assessment and Training
Robotic welding systems continue to gain in popularity due to their ability to increase productivity, improve quality and decrease costs in the right application. But they also offer a way to address a shortage of skilled labor for manual operations. Welding automation provide companies with a means of staying competitive in a demanding marketplace, while using their existing and potential workforce to oversee the weld cell.
With more and more robotic welding systems being implemented — the Robotics Industries Association (RIA) cited that 20% of all industrial applications had robotic welding cells as of 2017 — comes the need for increased attention to safety. From the robotic welding gun and peripherals to the robot itself, following safety best practices is essential.
Robotic welding safety hazards and resources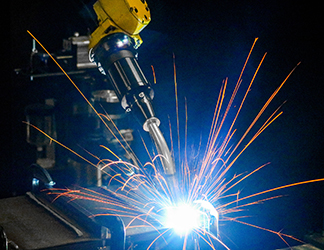 Statistically, welding automation is safer than manual or semi-automatic welding. However, operators overseeing the robotic welding cell must still remain vigilant. This is particularly true when performing nonstandard operations; these include programming, maintenance and any other tasks that involve direct human interaction with the robot.
Conducting a thorough welding risk assessment helps identify potential safety hazards associated with a specific robotic welding system (whether it is a pre-engineered or custom cell) and is a critical first step in establishing a safer welding environment. This assessment provides a baseline for implementing solutions for identified risks and establishing appropriate welding safety training. In addition, it helps companies maintain compliance with safety standards, which most importantly protects employees but also protects the bottom line. Noncompliance and/or safety violations that can lead to injury become can be costly in terms of fines and workers' compensation.
External Resources
Companies can obtain welding safety resources through the American Welding Society (AWS), including Safety in Welding, Cutting, and Allied Processes, ANSI Standard Z49.1, a free download at aws.org. The National Fire and Protection Association (NFPA) also offers resources. RIA follows American National Standards Institute (ANSI) standards and offers safety seminars and webinars. RIA also provides information on industrial machinery and guarding, as well as guidelines to help companies, including the American National Standard for Industrial Robots and Robot Systems – Safety Requirements, ANSI/RIA R15.06-2012. The Occupational Safety and Health Administration (OSHA) is another valuable safety resource.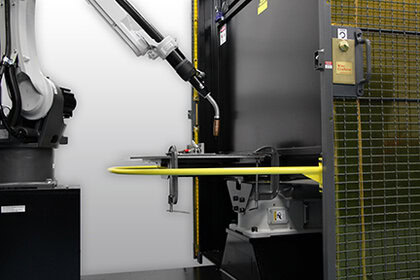 Many robotic welding integrators or robotic welding system manufacturers offer training for the safe use of their equipment, including how to test safety functions and at what frequency. They also provide manuals and safety standards for their systems. It is critical to read and follow these thoroughly.
Safe use of robotic welding guns, consumables and reamers
Manufacturers of robotic MIG welding guns often integrate design elements into these products to aid in their safe use. These elements are intended to protect operators during routine maintenance and minimize or eliminate the need to enter the weld cell to complete tasks.
For example, guns that are compatible with front-loading liners help improve safety in a robotic welding cell. These liners can be installed from outside the weld cell — there is no need to climb over tooling or maneuver around the robot to complete replacement. Operators or maintenance personnel also don't need to remove electrical connections to replace components during the process.
An insulating disc is another important safety feature in select guns. It helps protect operators from the welding current during maintenance and protects the robot from the current, limiting potential damage.
In addition to integrated safety features, there are some key best practices for working with robotic welding guns, consumables and reamers (or nozzle cleaning stations). First and foremost, always de-energize the robotic welding system when installing a robotic MIG gun or consumables, and follow all lockout/tagout procedures.
When possible, it's ideal to have a window or opening that allows consumables to be changed or inspected from outside the weld cell. If this isn't feasible, programming the robot to stop near the weld cell door simplifies consumable changeover and eliminates the need for the operator to enter the cell, maneuver around tooling or climb on anything to complete the job.
Personal Protective Equipment (PPE)
The appropriate personal protective equipment (PPE) is also important when changing over consumables or the welding wire. The nozzle and contact tip may be hot, and there is the risk of the welding wire puncturing the operator. Leather or other thick work gloves are a must, and safety glasses should be worn at all times. Always use the proper tool to change over the nozzle and contact tip. We recommend a pair of welpers.
When performing maintenance on a reamer, begin by resetting the equipment to a home state, de-energizing it and following lockout/tagout procedures. Be certain there is no supply of air or electricity to the reamer. When changing over cutter blades, always wear gloves and use two wrenches to remove and install them. Reset the reamer to a home state when finished. This is an important last step, as the reamer will automatically complete a cycle as soon as it receives a start signal and is reenergized.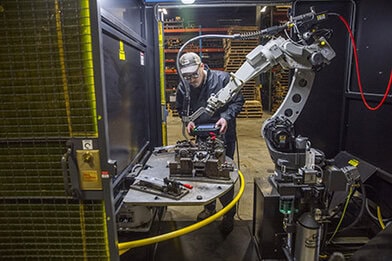 Navigating the robotic welding cell safely
Welding operators and maintenance personnel should familiarize themselves with the emergency stops on a robotic welding system as a first safety step. The number and location of these stops varies by system. For example, welding cells typically have an operator station emergency stop that ceases all robot functions and turns off the robot servo power, along with an emergency stop on the teach pendant. Operators should test these emergency stops periodically, although testing too frequently is stressful on the mechanics of the robotic welding system.
Understanding brake release procedures is also critical. RIA sets standard requirements for these; however, every robotic welding system is different, and the location of the override buttons may vary.
As when interacting with a robotic MIG welding gun, consumables or reamer, always follow proper lockout/tagout procedures before entering the robotic welding cell. Many systems have multiple lockout/tagout locations that are indicated by stickers. Some pre-engineered welding cells feature sliding programming access doors with magnetic keys that indicate that they are fully open and ready to be locked out prior to maintenance, helping to prevent pinch points or a trap hazard.
A built-in awareness barrier in pre-engineered cells is another means of aiding operator safety. This hooped barrier inside the weld cell covers the sweep area of the indexing table. Its purpose is to protect the operator from pinch points during teaching operations by separating the him or her from the space between the robot and the wall of the weld cell.
Unenclosed Robotic Systems
For robotic systems that are not enclosed, guards around the cell are necessary. These can take the form of physical barriers, like perimeter fencing or light curtains and/or electronic guarding such as area scanners that stop the robot when an operator is present in a specific area of the system.
Lastly, robotic integrators and robotic welding system manufacturers provide risk assessment documentation, typically in the operator's manual. It is important to review this assessment thoroughly and train employees on the proper techniques to mitigate any identified risks. For example, programming the robot introduces mechanical hazards such as the potential for pinching or impact, which can be addressed by standing a safe distance outside of the weld cell or by using a slower teach speed if offered on the teach pendant.
Other safety considerations
In addition to the best practices outlined for robotic MIG welding guns, consumables and systems, there are steps to further protect employees.
Creating a culture of safety
Safety in welding automation should be top of mind among operators, management and maintenance personnel. Ongoing training needs to be a priority, whether it is conducted through company programs or seminars offered by outside resources. The goal is to ensure that everyone involved with the robotic welding system is playing an active role in employing best practices. When following them properly, the result is a safer work environment and a stronger bottom line.