How To Install the New Q-Nut Cover
Install Insulating Ring over the back of the Q-Nut and into the space between the aluminum armor and the front face of the Q-Nut. Removing front end consumables allows installation over front of neck if desired.

Line up the middle of the tall arch on the Q-Nut Cover with the corner of the hex on the Q-Nut and slide the Q-Nut Cover forward until the part bottoms out. When installed properly, there should be an approximate 1/16" gap between the rear face of the Q-Nut Cover and the threads on the Q-Nut.


Slide the Silicone Insulator over the threads of the Q-Nut and press flush up against the rear face of the Q-Nut Cover. Ensure that the Silicone Insulator is orientated in the position shown in the image below.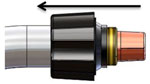 Pictorial Glossary