How To Install or Replace a QUICK LOAD Liner in a Bernard MIG Gun Equipped With an AutoLength Pin
---
Step 1
CAUTION – Turn off machine.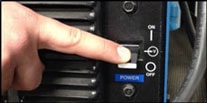 ---
Step 2
Trim ball from wire.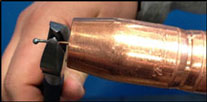 ---
Step 3
Remove consumables and old liner.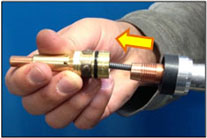 ---
Step 4
Straighten gun cable. Install new QUICK LOAD Liner over the wire. Use short pushes (to avoid kinking) until the liner seats in power pin.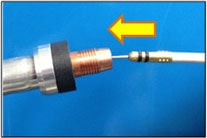 ---
Step 5
Push the liner into the neck. Release and push several times to confirm it freely springs back. Slide trim gauge over liner to neck.
---
Step 6
Push liner in as far as you can and then pinch gauge to hold it in place.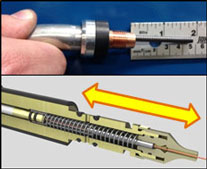 ---
Step 7
Trim liner flush with gauge.
---
Step 8
Release pinch on liner – it should spring out of the neck to a length of
1 3/4". DO NOT RE-TRIM LINER.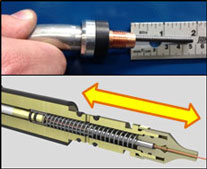 ---
Step 9
Push liner back into the gun as you reinstall consumables. DO NOT TRIM LINER.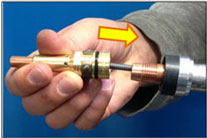 ---
Step 10
Turn machine back on.