Quality of Consumables Can Play a Role in Welding Productivity, Costs?
Consumables — contact tips, nozzles and gas diffusers (or retaining heads) — play an important role in the welding process and can impact productivity, costs and weld quality. Many factors influence the selection of consumables, including the application at hand, available budget and more.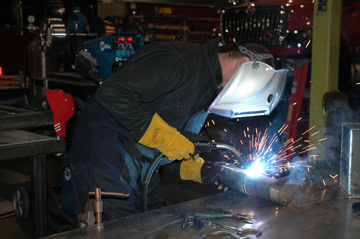 Some welding operations may view the purchase of consumables as a place to save money, since high-quality consumables typically cost more than lower-quality consumables. However, the up-front cost of consumables is just one part of the picture. Companies should consider the long-term benefits and savings that quality consumables can provide when making the selection, since consumables are an ongoing cost in the welding process.
The optimal consumables are ones that provide the best quality and the longest life. These benefits in turn help lower replacement costs, minimize downtime and improve productivity. Also, quality consumables can often reduce post-weld cleanup work, saving time and money. The design, manufacturing process and materials are all characteristics that influence the performance of these components.
This article has been published as a web-exclusive on thefabricator.com. To read the entire story by Bernard design engineer Rob Centner, please click here.