Double the life of your BTB MIG Gun!
Our built-to-order MIG guns keep on welding in the harshest and most abusive environments. The innovative Double-life MIG gun system* from Bernard allows you to extend the life of your BTB semi-automatic air-cooled MIG gun equipped with a T Series or C Series straight handle.
How It Works
BTB MIG guns with T Series and C Series straight handles have identical front and back handles and internal connections. Once the front end of the cable becomes worn, simply flip-flop the neck and trigger from the front end of the gun with the power pin on the back.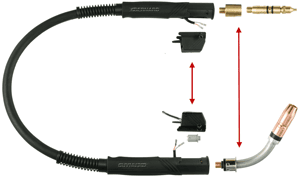 This results in a newer front handle to work with and the worn handle and cable moves to the feeder end of the MIG gun, extending the life of your gun.

*The Double-life MIG gun system is not compatible with B Series curved, B Series small curved, O Series curved, O Series small curved, or T Series small straight handle styles, or to any handle style if the MIG gun is equipped with Bernard®, OXO™ or Euro power pin options.