TOUGH GUN CA3 Chassis Replacement Upgrade Path Overview
All existing TOUGH GUN® G1 series conventional MIG guns can easily be upgraded to become a TOUGH GUN CA3 robotic air-cooled MIG gun at the time of your next unicable replacement as follows:
1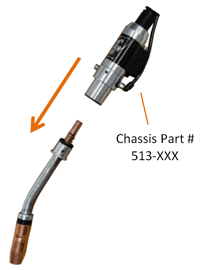 Time to replace the chassis on your TOUGH GUN G1 series conventional MIG gun?
Remove your gun from the robot. Disconnect the neck and power pin from the chassis and set them aside.
2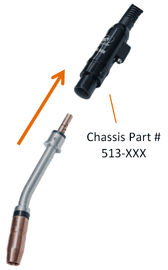 Order a replacement chassis using your current part number (e.g. 513-XXX) to receive a kit that includes the new replaceable unicable plus the CA3 connector.
Reinstall your neck and power pin, and your gun will now be a TOUGH GUN CA3 MIG gun! Reinstall the gun to the robot using your existing mounting arm (your TCP will remain unchanged).
3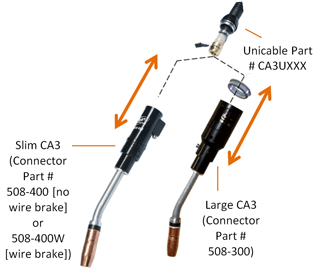 Time to replace the unicable on your upgraded TOUGH GUN CA3 MIG gun?
Order only the replaceable unicable using one of the new part numbers (e.g. CA3UXX) and enjoy faster replacement time since the gun can now remain mounted to the robot.