What to Know About Liners for Robotic Welding Guns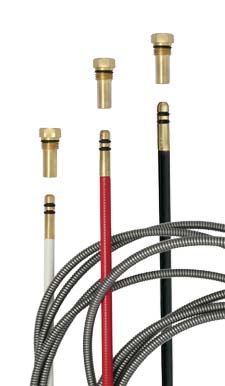 The liners used in a robotic gas metal arc welding (GMAW) gun play a significant role in the productivity, cost and quality in your automated welding operation, alongside other consumables such as the nozzle, retaining head (or gas diffuser) and contact tip. Liners run the length of the robotic welding gun and power cable — from the contact tip to the power pin — and act as the conduit through which the wire is fed.
A poorly installed liner can lead to problems with bird-nesting and excessive debris in the liner, which can both cause wire feeding issues that lead to downtime — the enemy of any robotic welding operation.
For this reason, it is imperative to select the right liner for the wire type and diameter being used and to trim it to the proper length.
This article has been published as a web-exclusive on thefabricator.com. To read the entire story, please click here.