PRODUCT UPDATE —
Expanded QUICK LOAD Liner Product Offering
July 14, 2010
Tregaskiss has expanded its QUICK LOAD® liner offering ot include three new wire sizes for 0.030″, 1/16″ to 5/64″, and 0.078″ to 3/32″ wires.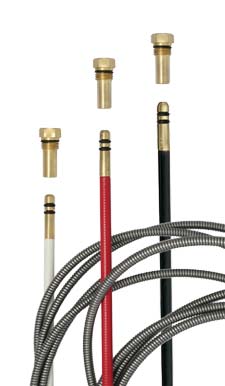 QUICK LOAD liners consist of a two-piece system that requires less than half the time and effort for replacement compared to conventional MIG gun liners, and they also ease routine maintenance. The welding operator simply installs the retainer in the power pin on the first use.
During subsequent liner replacements, the QUICK LOAD liner feeds through the front of the MIG gun, which can remain attached to the wire feeder during liner replacement. The welding operator needs only to remove the front-end consumables (nozzle, retaining head and contact tip) and slide the liner over the wire, using it as a guide. There is no need to cut the wire in the MIG gun.
The QUICK LOAD liners for 0.078" to 3/32" wire require the new 415-24 QUICK LOAD liner retainer, while all other liner sizes use Tregaskiss' existing 415-26 retainer. Tregaskiss offers QUICK LOAD liners in lengths up to 25 feet for Bernard® T-Gun™ semi-automatic MIG guns (formerly Tregaskiss® TOUGH GUN® semi-automatic MIG guns) and up to 15 feet long for robotic applications.
On semi-automatic applications, the liners can be easily changed even when the MIG gun is mounted to feeders on booms; there is no need to climb up to the feeder. Similarly, on robotic applications, the QUICK LOAD liner minimizes downtime by eliminating the trouble of maneuvering around tooling or transferring systems to remove the MIG gun from the wire feeder. It also allows for liner changeover from a safe-zone outside the work cell during routine pauses in production. The QUICK LOAD liners are particularly beneficial when coupled with Tregaskiss' TOUGH GUN ThruArm® series robotic MIG guns, as the wire feeders in through-arm systems are closely positioned next to the robot's casting and can be cumbersome to move during conventional liner changeover.