Tregaskiss Updates Robotic MIG Gun and Reamer Configurators
WINDSOR, Ontario (August 20, 2019) – Tregaskiss has updated the online configurators for its TOUGH GUN® CA3 robotic air-cooled MIG gun, TOUGH GUN TA3 robotic air-cooled MIG gun and the TOUGH GUN TT3 reamer robotic nozzle cleaning station with improved functionality. The new mobile-friendly configurators allow users to quickly and easily customize their robotic MIG guns and reamer for their exact application.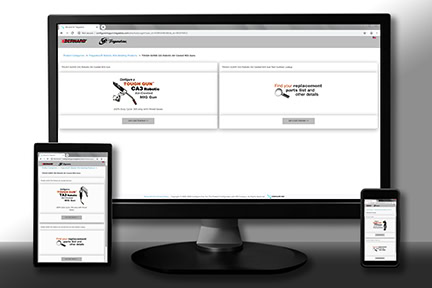 Designed for high-volume production environments, the 385-amp TOUGH GUN CA3 robotic air-cooled MIG gun is engineered for precision, durability, accuracy and repeatability. The TOUGH GUN TA3 robotic MIG gun minimizes downtime and improves welding performance on today's through-arm robotic welding systems, while the TOUGH GUN TT3 and TT3 (Ethernet) reamer helps extend the life of robotic MIG guns and consumables and operates reliably in even the harshest welding environments.
In addition to features previously offered on the configurators, including reverse part number lookups and step-by-step product customization, the new versions provide access to expanded resources. These include a detailed summary of the configured gun or reamer, downloadable exploded view diagrams, an expanded replacement parts list with diagram, and other valuable takeaways like spec sheets and owner's manuals.
When the configurations for the TOUGH GUN CA3 and TOUGH GUN TA3 Robotic MIG Guns or TOUGH GUN TT3 Reamer are complete, the user receives a part number and parts list, and has the option to print, save in PDF format or email results. There is also the option to find contact information for a local distributor to order products from, or the user can request more information from a Customer Service representative.
To access the newly updated online configurators, visit Tregaskiss.com/ConfigureMyGun.
# # #