Regain Up to 95 Percent of Lost Productivity for Tip Changes With the New TOUGH LOCK HDP Contact Tips
WINDSOR, Ontario. November 14, 2017 — Tregaskiss has introduced its new TOUGH LOCK® HDP contact tips, designed to significantly extend contact tip life in pulsed MIG welding applications — resulting in increased production throughput.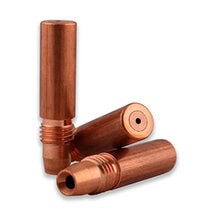 Precision engineered with a special alloy that provides a higher resistance to wear and arc erosion, the TOUGH LOCK HDP contact tips allow operations to regain as much as 95 percent of the productivity lost during typical contact tip changeovers. TOUGH LOCK HDP contact tips can do so by lasting six to 10 times longer than copper and chrome zirconium tips, which often need to be replaced twice as frequently during pulsed MIG welding due to its high heat input. The new contact tips also feature a tight bore tolerance, provide increased arc stability to improve weld quality and reduce spatter, along with its associated cleanup.
TOUGH LOCK HDP contact tips are available in packages of 5, 25 or 100 and can be used with .035-, .040- and .045-inch solid copper-coated wires. They are compatible with TOUGH LOCK Consumables, including nozzles and retaining heads, and require no change to Tool Center Point (TCP). The contact tips also benefit from compatibility with the TOUGH GUN reamer robotic nozzle cleaning station, which helps extend the life of robotic MIG guns and consumables by automatically removing spatter.