PRODUCT UPDATE –
New Liner Trim Length for Liners 6-Feet Long and Shorter
February 3, 2017
Tregaskiss now recommends trimming all rear-loading conventional and front-loading QUICK LOAD® liners that are 6-feet in length and shorter with a 1/2-inch stick out.
This new trim length provides performance improvements for the liner and cable, and for wire feeding overall. It also helps to reduce some strain on both the liner and the cable while still maintaining a proper liner seat in both the retaining head and the power pin.
Effective late February, all bagged 6-foot Tregaskiss conventional and QUICK LOAD liners will include a new 1/2-inch blue liner gauge along with a technical insert outlining these updated trimming instructions. The outside of each bag will also be marked with a sticker indicating a change to liner trim length.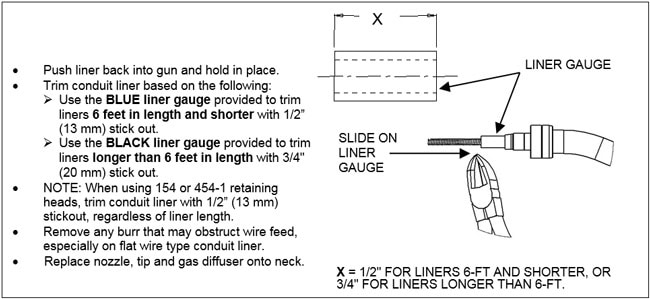 NOTE: Liners longer than 6-foot in length should still continue to be trimmed with a 3/4-inch stick out. No change to liner gauges or trim instructions for conventional or QUICK LOAD liners longer than 6-feet is recommended.