PRODUCT UPDATE –
300 amp Clean Air Fume Extraction MIG Gun Now Available
March 16, 2017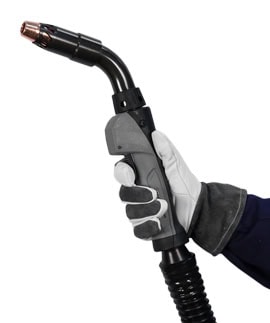 Bernard is pleased to announce that we have added a 300 amp model to our Clean Air™ fume extraction MIG gun offering.
Reduce smoke at the source with an industrial-duty fume extraction gun that is comparable in size and weight to a regular welding gun.
Features and Benefits
NEW!! Available in 300 amp, 400 amp, 500 amp and 600 amp models
Small size of vacuum chamber provides good joint access and visibility
Vacuum hose swivel on rear of handle improves flexibility and reduces wrist fatigue
Ideal fume extraction solution for large weldment and confined space welding applications
Compatible with Centerfire™, Quik Tip™ and TOUGH LOCK® consumables
Compatible with QUICK LOAD® liners or conventional liners
Click here to learn more about the Clean Air fume extraction MIG gun.