PRODUCT CHANGE –
Bernard Power Pins
Beginning on June 2, 2014, Bernard's new BTB MIG gun platform brings our Q-Gun™, S-Gun™ and T-Gun™ MIG Guns into a single gun line and single configurator.  To combine the gun lines, it was necessary to standardize the back ends of all BTB MIG guns with the straight rear strain relief found on Bernard® T-Gun™ MIG guns (formerly Tregaskiss® TOUGH GUN® semi-automatic MIG guns).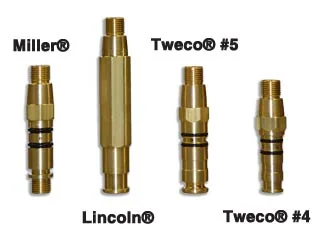 Similarly, the Tregaskiss power pins that mate with the T-Gun series have now been adopted with some slight modifications as the Bernard power pins for both Bernard semi-automatic and Tregaskiss robotic MIG guns. The slight modifications include a new overall hex shape (see image on right) and fixed gas barbs. 
Bernard MIG gun lines that are compatible with these pins include:
Due to the expanded compatibility of these pins, some distributors and end users will be able to reduce inventories of Bernard replacement parts.
For additional information on power pin kits and power pins, please click here to access the spec sheets in PDF format.