Premier Boat Fabricator Improves Productivity 25 Percent with New MIG Guns and Consumables
When 90 percent of your business focuses on boat fabrication and repairs that require you to meet specific deadlines and codes, having the right welding equipment to manage the job isn't just ideal, it's essential. The welding operators and supervisors at Hike Metal Products Ltd. are no strangers to this fact. They know that the equipment they use needs to produce quality results, and it has to be easy to maintain. Downtime for weld repairs or MIG gun and consumable replacements simply isn't an option.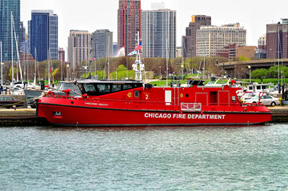 "We're pretty well-known worldwide in the boat building industry for the quality of the vessels we build," explains Frank Baptista, plant manager, Hike Metal Products. "We can relate that back to the equipment we use to make our boats."
The boats to which Baptista refers include those for the Canadian Coast Guard, the popular Maid of the Mist at Niagara Falls and police boats throughout Abu Dhabi. They have also fabricated boats for areas ranging from Florida to California and Venezuela, and recently finished an $8.5 million fireboat for the Chicago Fire Department.
Hike Metal Products also tackles tough fabrication and repairs for other non-marine applications ranging from water treatment plants and oil recovery to agriculture.
For the last several years, Hike Metal Products has relied on Bernard T-Gun™ Semi-Automatic Air-Cooled MIG Guns (formerly Tregaskiss TOUGH GUN™ Semi-Automatic Air-Cooled MIG Guns) and TOUGH LOCK™ Consumables to meet the quality and productivity goals on its marine applications in particular. Local welding distributor, Ron Latrielle of Praxair in Chatham, Ontario introduced the products to the company. Praxair has worked with Hike Metal Products for the last 20 years, providing their welding supervisors and operators with new solutions to help them improve their welding performance and keep their competitive edge. Also involved with Hike Metal Products and their equipment is Kevin Cole, a representative from Bernard sister company, Miller Electric Mfg. Co. Along with Latrielle, Cole introduced the company to Miller XMT® 350 Multi-Process Inverters and Suitcase RC wire feeders that they have paired with their T-Gun MIG Guns to gain greater remote access to projects.
Gaining greater productivity
Hike Metal Products, located in Wheatley, Ontario, Canada, has been serving the boat industry since 1958, designing and fabricating ferries, research vessels and patrol boats, as well as hovercrafts and icebreakers. The commission for the recent Chicago Fire Department fireboat arose, in part, from the company's successful completion of a similar boat for the city of Baltimore, along with the company's industry-wide reputation for quality and punctuality.
Completing such a massive project, however, was no easy task. Nor was it a leisurely one. Hike Metal Products completed the job — from the day they received the raw materials for the project until they delivered the final product — in 16 months. It's an impressive feat when you consider the fireboat is 90 feet long and capable of pumping 14,000 gallons of water a minute. It's among the largest boats the company has fabricated and delivered in recent years. It also has a special name: the Christopher Wheatley, named in honor of a Chicago firefighter who died in the line of duty in 2010.
As with most of the company's projects, this one required welding thick portions of mild steel (up to 3/4 inch) using flux-cored wire and relatively high amperages (up to 400 amps) — often for long periods of time. The company used 1/16-inch welding wire and completed all welds to code according to the Canadian Welding Bureau (CWB).
According to Latrielle, such applications very often require a water-cooled MIG gun in order to withstand the heat; however, he was able to outfit Hike Metal Products with 400-amp air-cooled models of the T-Gun MIG Gun instead — with no problems of overheating. That's important considering that welding operators at Hike Metal Products can weld up to 60 feet of welds in a single day.
"We were really pleased that we could get away with not using a water-cooled system, which just has more parts and more things to go wrong with it," explains Latrielle. "The air-cooled T-Gun MIG Guns have been able to handle the amperage that they are pushing and get the job done."
Baptista adds that the previous MIG guns he and his team used couldn't boast the same durability.
"Because of the heat we weld with, the triggers on our old guns just wouldn't last. We had to change them every other week," he says. "Now if something goes wrong with our T-Gun MIG Guns, it's almost time to change the entire gun anyway."
In addition to their durable triggers, the T-Gun MIG Guns feature a sturdy cable strain relief on the front and back ends to prevent kinking and abrasion. This feature also helps minimize the time and cost for cable replacement. The guns have the Double-Life MIG Gun System, as well: identical connections on the front and back ends. When the front end or cable becomes worn, welding operators at Hike Metal Products can double the life of their gun by removing the trigger switch and gooseneck and flip-flopping them to the back end. The guns also feature a Lifetime Warranty on handles and switches. If either component breaks, Bernard will replace them for free.
"The features on the 400-amp gun are just so durable that the guns just go and go and go," says Baptista. "That's good, because if you're not fixing the gun, you're welding, right?"
Hike Metal Products Quality Manager Dave Hewstone, along with Latrielle, like too that the guns have simplified the process of searching for welding equipment and maintaining inventory.
The guys (welding operators) like them and they do such a good job, I don't have to be out there looking for another product to meet the challenges of our projects all the time. What I like is that the guns perform for my customers. They do the job. We don't hear a lot of complaints

Dave Hewstone, Quality Manager, Hike Metal Products
Adding to their arsenal of welding equipment is the TOUGH LOCK Consumable System that Latrielle introduced along with the Bernard T-Gun MIG Gun. This consumable system consists of TOUGH LOCK Contact Tips and Retaining Heads with Dual Taper Technology, a second rear taper between the gooseneck and the contact tip that helps improve electrical conductivity and extend the life of the TOUGH LOCK consumables. It's a benefit that Baptista has noticed firsthand.
"With our previous consumables, we changed out our contact tips anywhere from three to four times a day," he says. "Now, in the morning, we just get rid of the old tip and put in a new one."
These contact tips also feature a dual-lead thread design that allows the tips to be rotated 180 degrees to create a new wear position and extend the tip life even further.
The Results
According to Hewstone, Hike Metal Products has enjoyed a 25 percent increase in its productivity since converting to the Bernard T-Gun MIG Gun and TOUGH LOCK Consumable System. That productivity increase has resulted from the company reducing downtime for MIG gun maintenance and consumable changeover. And, jokes Hewstone, the productivity also comes from the company's top-secret planning and fabrication.
"No, really, there are no real top secrets to our success," Hewstone says. "Just hard work, to be honest with you."