AccuLock™ S Consumables with Bernard® Conventional Rear-Loading Liners on Miller® Packages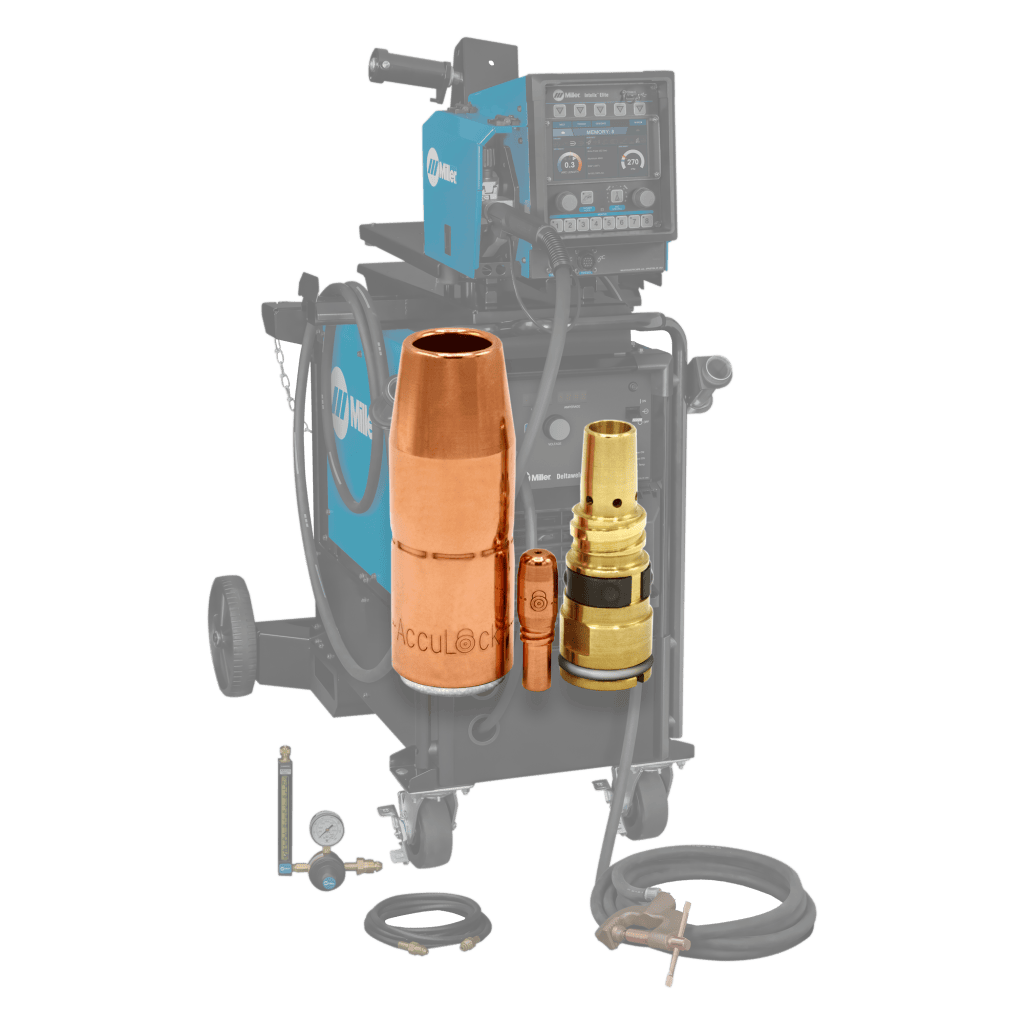 Bernard® BTB MIG Guns with select Miller® packages will begin shipping on March 7, 2023 with a version of AccuLock that consists of a diffuser compatible with the common conventional style liners you are used to using, plus the added benefit of standard AccuLock S contact tips and nozzles.
AccuLock™ can transform the way businesses manage their MIG welding gun consumables — helping to optimize productivity, operating costs and welder confidence.
Less tip changes
Less welding troubleshooting
More beads worth bragging about
You will benefit from:
Longer Tip Life
Reduced contact tip replacement frequency
Contact tips are 60% buried within the diffuser for less exposure to the heat of the weld
Mating tapers on both tip-to-diffuser and diffuser-to-neck connection for good electrical conductivity
Shielding-gas cools contact tip tail
Less rework and ease of maintenance/replacement
Less Rework and Ease of Maintenance
Coarse thread contact tips speed tip replacement
Steel retaining ring on diffuser helps keep threaded nozzle in place during use/cleaning
AccuLock™ S Consumables with conventional rear-load liners are now available on select Miller® Packages including:
Upgrade to AccuLock S Dual-Locked Liners to receive all the benefits above plus:
Error-proof liner replacement, every time, with no measuring required!
Flawless wire feed path — AccuLock S front-load liners are locked and concentrically aligned to both the contact tip and the power pin, optimizing wire feeding, which eliminates welding liner misalignment gaps from your troubleshooting list

Why offer conventional liners with AccuLock S consumables?
We're offering conventional liners with AccuLock S consumables to make it as easy as possible to convert existing fleets of BTB MIG Guns from Centerfire™ or TOUGH LOCK® to AccuLock S consumables. To convert your current guns from Centerfire or TOUGH LOCK to AccuLock consumables, simply swap out the nozzle, diffuser and contact tip. You can continue to use your existing conventional liner without retrimming. Later, when you want the additional benefits offered by the AccuLock S dual-locked liner, you can upgrade your existing guns by swapping out the diffuser, liner and power pin cap or you can begin purchasing new guns with the full AccuLock S system.
Click here to download the AccuLock S Consumables Conversion Guide for Miller Packages. This detailed guide contains all the part numbers needed to convert your existing guns to AccuLock or to re-order the AccuLock consumables that came with your Miller package.