New TOUGH GUN® TT4A and TT4E Reamers Power Through Spatter to Increase Uptime and Weld Quality
WINDSOR, Ontario. (September 14, 2021) — Tregaskiss has introduced its new TOUGH GUN TT4A (analog) and TT4E (ethernet) reamers to maximize uptime and weld quality in robotic welding operations. These nozzle cleaning stations provide superior cleaning performance to power through spatter, improving gas flow and reducing porosity so more time can be spent welding.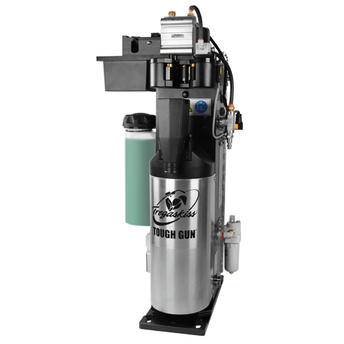 Both reamers offer a powerful .95HP motor and 236 pounds of lifting force at 95 psi. Engineered from harder, stronger material, the cutter blades are more resistant to breaking, chipping or cracking.
Adding to the reamers' performance are several features designed to keep robotic welding operations running for extended periods of time. These include durable valves and cylinders rated for 10M+ cycles and a wire cutter that can run 1M+ cycles without requiring maintenance. The reamers also feature a powerful motor that lasts up to 18M cycles at 80+ psi. A standard motor lubricator supports that performance by extending the life of the motor; it is highly recommended for use in damp and moisture rich environments.
New standard anti-spatter features
Tregaskiss has integrated several new standard features into the TOUGH GUN TT4A and TT4E reamers to help reduce downtime, safety incidents and costly weld defects associated with the use of anti-spatter liquid.
An anti-spatter reservoir with 20-ounce capacity reduces the need for frequent refills to improve productivity, while a low fluid level indicator sends an alert to the PLC/robot when anti-spatter solution is low. This minimizes the risk of running out and helps prevent poor weld quality from lack of shielding gas due to spatter build up. The reservoir includes a tethered cap and easy-clean filter to protect against anti-spatter contamination, which can also lead to weld quality issues. It mounts directly to the reamer frame to increase durability. The reservoir is compatible with the TOUGH GARD® anti-spatter multi-feed system to provide a continuous supply of anti-spatter solution to up to 10 reamers from a 5-gallon pail or 55-gallon drum.

Also standard is a spray containment unit that captures anti-spatter overspray in an enclosed basin, lessening the potential for slip and trip accidents, improving air quality and reducing downtime and cost for cleanup. The weld cell remains dry and clean.  
Versatile features and additional options
The TOUGH GUN TT4A and TT4E reamers both feature a four-sided v-block that eliminates the need to purchase new v-blocks when changing nozzle styles, while the TT4E model with ethernet provides greater control and flexibility for remote operation.
Both reamers have external setup switches that allow independent operation of the sprayer, clamp and spindle during manual setup.
Tregaskiss offers additional options for the reamers to further enhance their versatility, including a wire cutter that removes the ball at the end of the welding wire for smoother starts and consistent stickout, along with a reamer stand. A nozzle detect sensor confirms the presence or absence of a nozzle prior to welding to support consistent weld quality and reduce rework. An optional filter/regulator extends motor life by cleaning the air supply to the reamer and keeping debris from entering the motor. 
For more information about the TOUGH GUN TT4A and TT4E reamers, visit Tregaskiss.com/robotic-nozzle-cleaning-stations/.
# # #