New Reverse Part Number Lookup Function for Online MIG Gun Configurators Saves Time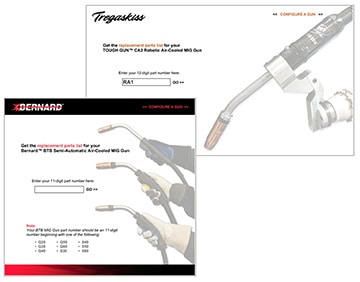 BEECHER, Ill./WINDSOR, Ontario. August 9, 2016 – Bernard and Tregaskiss have introduced a new reverse part number lookup function for their semi-automatic and robotic MIG gun online configurators — online tools that allow users to customize a MIG gun for their exact needs, by selecting amperage, neck style and angle, consumables and more. The new time-saving reverse part number lookup function provides users with the complete replacement parts list — from power pin to contact tip — for previously configured MIG guns, based on the existing part number.
Reverse lookup information is available for the Bernard® BTB semi-automatic MIG guns and Clean Air fume extraction guns, along with Tregaskiss® TOUGH GUN® CA3 and TA3 robotic MIG guns. It is also available for the TOUGH GUN G2 series robotic MIG guns (both conventional and througharm styles) and features additional functionality for these products to simplify conversion to a TOUGH GUN CA3 or TA3 robotic MIG gun. Users of Tregaskiss robotic water-cooled MIG guns (600 amp) and TOUGH GUN TT3 reamers can also benefit from this reverse part number lookup function.
To utilize the part number lookup function, users can visit Tregaskiss.com/ConfigureMyGun and follow the prompts on the home screens to enter an existing part number.