NEW PRODUCT – AccuLock R Consumables
October 23, 2019
Tregaskiss is pleased to announce the launch of new AccuLock™ R consumables, a system designed to maximize throughput and efficiency with minimal risk and effort.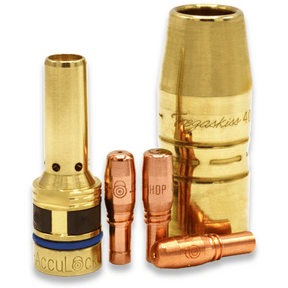 AccuLock contact tips last longer and are virtually impossible to cross-thread. The long contact tip tail concentrically aligns the tip within the diffuser prior to thread engagement, and this coupled with the tip's coarse thread ensures quick, accurate replacement without cross-threading. An upgrade to AccuLock HDP contact tips can extend life by 10x or more in pulse welding applications.
You can easily switch from TOUGH LOCK® and other consumables to AccuLock R consumables with no impact to tool center point (TCP), making this upgrade low effort, low risk, and high payoff.
Plus, Tregaskiss AccuLock R consumables and Bernard® AccuLock S consumables share a common contact tip, so you can benefit from the reduced costs and simplified inventory of a common consumable platform™ if you have a combination of robotic and semi-automatic MIG guns in your facility.
Reduce troubleshooting, downtime and rework with these new consumables. Learn more about Tregaskiss® AccuLock™ R consumables.
Series Components:
AccuLock™ contact tips
AccuLock R diffusers
Tregaskiss® nozzles