NEW PRODUCT –
C Series Handle Option for BTB MIG Guns
New C Series Straight Handle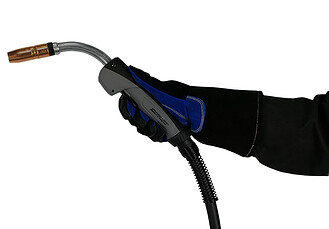 The new C series straight handle expands our handle offering from six to seven options within our Bernard BTB MIG gun configurator. This new handle provides all the same benefits as our current T series straight handle, plus additional enhancements such as comfortable handle overmolding and an ergonomic rear swivel.
Amperage range: 200, 300, 400 and 500 amps
Available in 8, 10, 12, 15, 20 and 25 foot lengths
Choice of Centerfire™, Quik Tip™ and TOUGH LOCK® consumables
Standard, dual pull and dual schedule trigger options
Choice of twenty fixed and rotatable necks in various angles and lengths
Choice of industrial-grade (200 through 500 amp models) or steel monocoil cable (300 or 400 amp models)
Choice of conventional liners or front-loading QUICK LOAD® liners
Choice of a Bernard power pin or an AutoLength™ pin for the revolutionary QUICK LOAD liner AutoLength™ system
One year warranty
Lifetime warranty on the rear strain relief, front handle and switch
Double-life MIG gun system allows you to extend the life of your BTB MIG gun with a C series straight handle (or T series straight handle); once the front end is worn, just flip-flop the front and back ends of the torch!
Click here to learn more about the new C series straight handle.