Managing MIG Guns and Consumables for Multiple Applications
The fabrication and manufacturing industries continue to experience demands for greater productivity, increased efficiencies and higher cost savings — often times with less labor to support the efforts. Every improvement companies can make to achieve these goals is beneficial, from offering more operator training to implementing lean practices. Managing MIG guns and consumables that meet the needs of multiple applications is also an important element in achieving those goals, both from an inventory perspective and as a matter of eliminating unnecessary downtime.
There are rarely, if ever, welding operations that require only one type of MIG gun or a single consumable. In fact, it's not uncommon for many companies to have multiple MIG guns and consumables in use as a routine part of their daily operations, especially within the automotive manufacturing and pressure vessel industries.
Automakers, for example, often have handheld and automation weld cells all in the same building. Similarly, welding operators working on different-sized pressure vessels may have a 1,500 gallon tank being welded together with a larger, higher-amperage MIG gun, while welding operators are fabricating a smaller tank nearby with much smaller, lighter-duty MIG gun.
Understanding how to pair the best gun and consumable with the job can pay off in workflow and cost savings, and help improve the quality of completed welds. In addition, minimizing the part numbers for MIG guns and consumables can simplify inventory, which ultimately saves time for management and saves storage space. It can save time during the welding process, too.
In the shipbuilding industry, for instance, welding operators move around frequently so they do not have the capacity to swap out MIG guns to address multiple applications. Instead, they often standardize on one type of MIG gun and swap out the necks, installed with a jump liner that replaces the front part of the liner system (the rest seats in the power cable). Doing so allows them to keep the same gun for the job, while gaining access to a new joint with the appropriate neck length or configuration.
Below are five tips to help streamline welding operations and remain competitive by managing MIG guns and consumables effectively.

1. Standardize on a shorter power cable length across weld cells. As a rule of thumb, always use the MIG gun with the shortest power cable possible. A MIG gun with a longer power cable can cause welding operator discomfort since it is heavier, which can cost money and time if he or she has to stop to rest due to fatigue. Additionally, a shorter power cable minimizes the risks of kinks that could cause poor wire feeding and/or an erratic arc, and result in downtime to address birdnesting or rework.
Using fewer power cable lengths throughout an operation is possible when there is a difference of two or three feet between each application. For example, it may be possible to standardize on a 15-foot cable for weld cells that need this or a slightly shorter length — without causing issues with kinking of poor wire feeding. Doing so minimizes inventory and storage space requirements. It also takes away the guesswork when it comes to replacing this part of the MIG gun, as it eliminates the risk that a welding operator or maintenance employee will install the wrong length power cable on a MIG gun.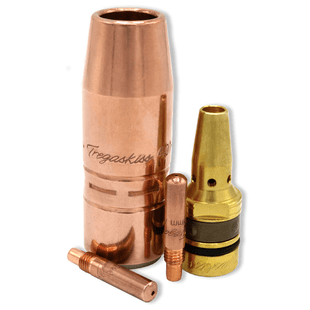 2. Choose one type of liner, when possible. There are different styles of liners available for MIG guns, including steel liners, D-wound liners or Teflon® liners. Teflon liners are well-suited for wires that are difficult to feed, including stainless steel or aluminum. Standardizing liner types across multiple weld cells, when possible, can reduce downtime for changeover and costs for inventory. Always make sure the liner is properly installed; otherwise, problems like birdnesting and feeding issues can result.
3. Use the same contact tips, even across semi-automatic and robotic weld cells. Use one type of contact tip across applications whenever possible. For companies that have both robotic and semi-automatic welding operations, common consumables can be especially helpful to streamline processes and inventory — while also reducing costs. It is not uncommon in robotic welding applications for welding operators to change contact tips long before they become worn, as it helps ensure that there is minimal downtime for problems associated with failures. These contact tips, however, still have life in them and can be used on semi-automatic MIG guns to reduce part numbers and count in inventory, and overall costs.
It can also reduce confusion as to which contact tips to use across the welding operations. Too many different types of contact tips, for instance, can be confusing and can lead to a welding operator using the wrong parts on the wrong MIG guns. That misstep can bring production to a slowdown or a halt.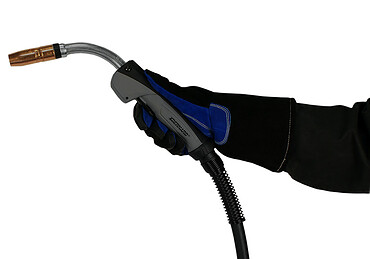 4. Adapt the power pin. It is not uncommon for companies to have multiple types and brands of power feeders throughout the welding operation. When possible, standardizing the power pin used in every MIG gun, via an adaptor at the feeder, can help streamline the management of various power pins to match these feeders. If a company also has various types or brands of MIG guns, an adapter can also help with gun standardization. The guns can be ordered with the same power pin and plugged into any wire feeder throughout the facility, again streamlining ordering and inventory, and minimizing costs.
5. Review MIG gun amperage and select one to streamline. In some instances, it may be possible to use the same amperage of MIG gun for multiple applications. For example, if 200 amp and 300 amp guns are both part of the inventory, using 300 amp guns in each cell can make it easier to manage inventory. It can also help prevent the potential for overheating if a smaller gun is accidentally used in place of a larger, higher-amperage one for a higher duty cycle job.