PRODUCT IMPROVEMENT —
Solenoid Valve for TOUGH GUN Reamers with External Valves
May 7, 2008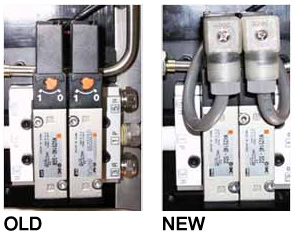 Previously we have supplied the type of TR-2210 solenoid valves (made by SMC) for the TOUGH GUN® reamer as shown in the image on the left (OLD). We now offer an improved DIN connection for this product (also from SMC) shown in the image on the right (NEW).
This new product is rated "IP65" (as defined in international standard IEC 60529), where:
6 = Dust tight; No ingress of dust; complete protection against contact
5 = Protected against water jets; i.e. water projected by a nozzle against enclosure from any direction shall have no harmful effects
NOTE: This product is designed for use ONLY on TOUGH GUN reamers with externally mounted valves.
Refer to product insert INS053 for more information about TR-2210 solenoid valves for TOUGH GUN reamers with external valves.