Implementing Robotic Welding: What to Know to Be Successful
The potential advantages of robotic welding are well known — increased productivity, improved quality and greater cost savings compared to semi-automatic welding. But the question is: How do companies best implement this technology to gain these benefits? And how can they ensure a quick return on the investment (ROI)? Simply stated, planning.
More preparation upfront helps minimize the cost and time for correcting errors in the robotic welding system once it has gone into production. From the welding power source to the robot or weld process to the gun and consumables, each component should be thoroughly researched to make sure it is feasible to operate in the weld cell — not just on paper, but in reality.
Take advantage of turnkey integrators who run their own process and capability studies. They can provide useful double checks to a plan and often conduct reach studies that model the weld tooling and workpiece. These mock up how the robot would weld in the finished system to test the gun reach and the overall efficiency of the process.
Also remember, success in robotic welding is as much a matter of doing the right thing as it is avoiding pitfalls that could hinder the efficiency of the operation.
Budgeting and ROI
With planning comes budgeting. A robotic welding cell may be installed on time, produce good weld quality and meet cycle time, but if the implementation and use of the system is over budget it will be an uphill battle to gain a good ROI.
Consider the associated goals to help establish a feasible ROI. For example, a company with the goal of producing 1000 parts a day needs to determine how much it can make from those parts. From there, it would subtract the cost of utilities and labor, along with the cost to make the product and the cost of raw materials, to determine a budget on equipment costs that would make the company profitable. If this equipment will only be used for 5 years, the company may need a quicker ROI than if it's planning to use the robotic welding system for 10 years or more.
Companies can make the most of their budget by considering equipment that could be reused. This can cut down on the investment in the long run. Robots can have an extensive life if maintained well, allowing them to be re-purposed from project to project. The same holds true with welding power sources and nozzle cleaning stations.
Ultimately, ROI depends on the company and what practices it follows for making profit. Some may be able to allow the equipment to take 18 months or more to pay for itself if the company plans on re-using or re-purposing the welding robots on multiple platforms over the next 10 years. Others may stand by the goal of a one-year ROI, which is common.
Effective training
Proper training is important for keeping a robotic welding system running successfully and profitably in the long term. Robot integrators and other equipment manufacturers often offer training as part of the implementation process. This training provides welding operators with a knowledge of robotic welding in general, as well as providing the information they need to operate the robot effectively for the application at hand. A well-trained operator will also be able to determine ways to maximize the efficiency of the robotic weld cell. They do this by troubleshooting and resolving issues quickly, keeping the robot online and supporting greater productivity and cost savings.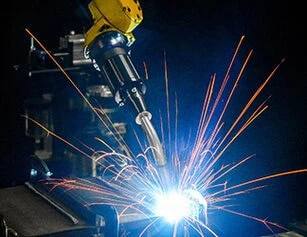 Likewise, train welding operators to implement PM for the robotic gas metal arc welding (GMAW) gun to gain longer life, reduce downtime and achieve more arc-on time. Regularly check that the gun connections, consumables and power pin are secure. Look for any signs of power cable wear and replace if necessary.Training geared toward the preventive maintenance (PM) of a robotic welding system and the weld cell is also key. For example, spatter build-up on the robotic welding gun can cause grounding issues and build-up on tooling may lead to dimensional movement of the steel from cycle to cycle. The latter can block the datum placements causing gun reach issues.
In a worse-case scenario, spatter builds up on equipment over time, creating solid formations that are difficult to remove and prevent the re-use of the equipment. To avoid these problems, train operators to follow a regular cleaning schedule for the weld cell and the equipment.
Avoid common mistakes
There are several common mistakes that can negatively affect productivity and quality in a robotic welding system. Knowing how to avoid these can help companies make the most out of the equipment and gain greater success. Consider the following:
1. Implementing the wrong equipment in a robotic welding cell can lead to spending more money than is required. Be sure to rate the power source, robotic GMAW gun and consumables for the application. Doing so helps minimize the risk of premature equipment failures that can lead to unplanned downtime and costly equipment replacement. For example, if a company selects an air-cooled system, but actually requires a water-cooled system for the application, it could incur unnecessary costs to repair or upgrade a failed robotic GMAW gun system that cannot handle the heat.
2. Underutilizing the robotic welding system can prevent companies from realizing their full productivity potential. Robotic welding systems should be programmed to maximize the arc-on time during the weld process cycle. In some cases, it may be possible to have fewer robots that weld for slightly longer cycles. This helps drop the initial implementation costs.
Take this example. A company has four robots in cell welding at 30 inches per minute with a cycle time of 60 seconds. These robots are inefficient since they are only welding half of the cycle time. That could be due to the positioner rotating for weld access, too slow of robot air cut movements, poor welding angles or other limiting factors. In this scenario, the total length of completed welds for all four robots is 60 inches (30 in. / min. x 1 min. / 60 seconds x 30 seconds of welding per robot = 15 inches of weld per robot).
An alternative here is to keep the cycle time at 60 seconds and drop down to three robots by improving items like the weld angles, creating quicker air cuts between welds, utilizing gun reaming during positioner movements and more. Now with improvements, the robots could weld at an average of 35 inches per minute for 35 seconds each cycle. That provides an average of 20 inches of weld per cycle per robot, allowing for the same total of 60 inches of weld with one less robot.
3. Underutilizing available labor can also hinder productivity. While companies should take care not to overload operators, it's important to balance manpower in robotic welding process so that employees are efficient and busy at the same time. If an operator is idle waiting for the weld cycle to complete, there could be room for process improvements by allocating labor to other activities near the weld cell.
4. Poor tooling design can impede quality. Thoroughly plan the tooling design and understand how the parts being welded will impact it. Different parts and materials react differently to heat and may draw, flex or bend during the welding process. Factor in how much heat a given weld sequence generates. The tooling will have to be designed with these in mind. If possible, design tooling to permit welding in the flat or horizontal position with appropriate robotic GMAW gun access. This allows for faster and more consistent results. Finally, remember, less expensive tooling may be attractive when looking at upfront costs, but it can be a pitfall later if it doesn't meet the demands of the job.
5. Overlooking activities outside the robotic weld cell can be detrimental. Plan for part inspection and cosmetic rework, as well as the final stages of palletizing the product if that is part of the operation. Some of these processes can be automated or manual labor driven. These are key stages in a robotic welding operation that can quickly become bottlenecks that cause the entire process to slow down. These bottlenecks can also add unplanned manpower or equipment costs, which can become expensive.
Final thoughts
Remember that no plan for welding automation can be successful without a good schedule for its implementation. Being thorough is more important than being fast. Set realistic goals for completing the installation of the robotic weld cells and don't rush or over-complicate the process. For first-time investors in robotic welding starting small can also help ensure greater success.
Once the robotic weld cell or cells begin operating, keep in mind that the startup may not be perfect. There may be adjustments required to optimize performance to gain the best productivity and quality.