TOUGH GUN I.C.E. Robotic MIG Gun Adds to Automation Benefits for Phoenix-Based Company
When your company focuses on custom contract manufacturing, you have to be prepared for any job that comes through the door — no matter how complex or challenging. Don Kammerzell, owner of K-zell Metals, Inc. in Phoenix knows that firsthand. And he's grown a successful business out of it.
"We do the jobs that nobody else wants to do… or can't. And we've made a good practice out of it." he explains,. "Everyone in the area knows that they can rely on us to work with most any material and on most any design."
Those jobs come, 99 percent of the time, by word of mouth from K-zell Metals' suppliers and customers, and include everything from building horse race starting gates to fabricating limited edition silicon bronze playground sculptures and components for military vehicles.
In addition to custom forming, laser cutting and CNC press brake equipment, K-zell Metals also has two robotic welding cells that combined allow the company to create more precise assemblies and to maintain a more competitive edge than when it relied solely on semi-automatic welding.
According to Kammerzell, the robotic welding cells have allowed the company to increase its throughput significantly in recent years — manufacturing as many as 5,000 parts in a single run — while still maintaining the same overhead.
As part of the robotic welding systems, K-zell chose to implement a hybrid air- and water-cooled robotic MIG gun from Tregaskiss called the TOUGH GUN I.C.E.® robotic MIG gun. I.C.E. stands for Integrated Cooling Enhancer, a feature that allows water circulation to the nozzle, keeping the front-end consumables running cooler and lasting longer. K-zell Metals can now easily switch between welding thick and thin parts without the hassle or downtime of replacing the entire gun.
Investing in Automation
When Kammerzell and his team decided to invest in their robotic welding cells, the goal was to gain a 15 to 20 percent increase in productivity and reduce costs for their customers and for themselves. Favorably, they found out that they could do better than that and the quality of the parts was even better than expected. They also found that the need to develop precise, repeatable parts was absolutely critical.
"Having the robotic weld cells forces our laser and press brake operations to be absolutely perfect, because they're automatically checked every day." Kammerzell explains, "Every part has to be right in order to fit in the fixture, so the robots are like built-in quality control for us."
To ensure the accuracy of its parts and fixturing, K-zell Metals relies on their Bystronic Bystar 4020 laser cutting equipment and also employs three mechanical engineers who design the fixturing and tooling for their robotic weld cells.
K-zell Metals also relies on its welding team to implement precise welding parameters for every run of parts, fine-tuning them to the point of producing parts that, according to Kammerzell, are "essentially 100 percent – right out of the box."
The time, effort and labor needed to refine the company's robotic weld cells, however, have paid off — literally. K-zell Metals gained a full return on the automation investment within two years.
Choosing the Right Robotic MIG Gun
When it came time to decide which robotic MIG gun to implement the robotic weld cells, Kammerzell deferred to Jim Benjamin — K-zell Metals' quality assurance manager, who also happens to be a welding engineer and the company's robotic welding supervisor. Benjamin had previously worked for an OEM supplier of robotic welding equipment and was familiar with Tregaskiss products.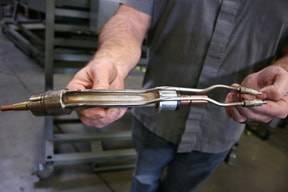 "In my experience, I found the Tregaskiss products to be exceptionally durable. And I knew that they were backed by great customer service. That made my choice to pick the TOUGH GUN I.C.E. [robotic MIG gun] an easy one."
Given that the company welds on such a variety of parts, materials and thicknesses, Benjamin wanted a robotic MIG gun that could accommodate it all. The TOUGH GUN I.C.E. robotic MIG gun is a hybrid between conventional air- and water-cooled designs that does just that. It features stainless steel water lines that run along the outside of the gun's neck down to the nozzle, rather than through the neck like true water-cooled products. This design provides water circulation that keeps the consumables running cool, and it simplifies maintenance.
When welding thicker parts, Benjamin explains, the welding operator uses the I.C.E. neck and hooks it up to an external water cooler within the robotic welding cell. The addition of the water-cooling allows the company to weld at the higher amperages required when welding these parts or when welding for longer periods of time (i.e. on long, continuous welds). When they weld thinner parts, he simply changes over to an air-cooled neck.
"I like the interchangeability of the air- and I.C.E. [water-cooled] necks. It gives us a wider variety of applications that we can put on the same robot, with the same power source and in the same weld cell." explains Benjamin, "Plus, the gun features a quick change neck, so we can swap them out without a lot of downtime."
Benjamin also appreciates the safety and durability of the TOUGH GUN I.C.E. robotic MIG Gun. In the event of a crash, he explains, the gun has excellent safety features that prevent it from becoming damaged. He also uses a simple neck alignment tool to ensure that the neck maintains its tool center point (TCP). 
"If there happens to be a crash, we can put the neck in the alignment fixture and be back up and running in just a few minutes." he explains, "We don't have to tweak the robot — we can get right back in production."
To both Benjamin and Kammerzell, having equipment that can keep up with the unique demands of their customer base is non-negotiable.
"Being a job shop and a contract manufacturer, we never know if we are going to have 10 parts, one part or several hundred," Benjamin says. "Having a gun we can so easily swap out and maintain is a huge benefit."