How Robotic Welding Supervisors Can Improve the Operation
Gaining a good return on investment (ROI) from a robotic welding system doesn't happen by chance. It's a matter of optimizing the robot and the robotic welding cell to operate at peak efficiency. And while this task is a team effort, it is led by the robotic welding supervisor.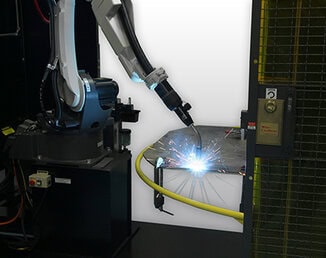 So, what can the supervisor do to guide the way, while looking at more advanced considerations? Pay close attention and collaborate.
Find opportunities for improvement
Even if a robotic welding system is meeting production and quality requirements, it's important that robotic welding supervisors commit to a continuous improvement process. Regularly looking for ways to increase efficiencies could provide the ability to produce more parts. It can also help identify issues within the robotic welding cell before they become problematic and cause downtime.
Robotic supervisors should pay close attention to details such as cable and consumable management, parts handling and workflow to pinpoint areas that could be streamlined. The goal is to avoid settling for less than optimal work practices to realize the full potential of the system. Doing so can provide companies with higher productivity and profitability and can set them apart from their competitors.
Rely on available resources
While the robotic welding supervisor may oversee the overall health of a robotic welding cell, the robot operator works hands on with the system daily to load and unload parts. For this reason, they are an excellent resource to rely on for insight into potential or existing problems, such as:
• Excessive spatter
• Poor joint configurations, or
• The need for tooling adjustments
Quality technicians are another internal resource to help the robotic welding supervisor identify any issues and drive performance improvements. In conjunction with welding engineers, they can help rectify issues like overwelding or part distortion.
External sources, such as a robotic welding integrator or equipment manufacturer, can help troubleshoot and offer advice to gain efficiencies. In many cases, they can also offer ongoing training that helps everyone improve their interaction with the robotic welding cell.
This article is the second in a two-part series focused on key information welding supervisors should know to help ensure robotic welding success. Read article one, Best Practices for Robotic Welding Supervisors.