Handrails in Hell: Hot Az Hell Welding and Fabrication Puts Dura-Flux to the Test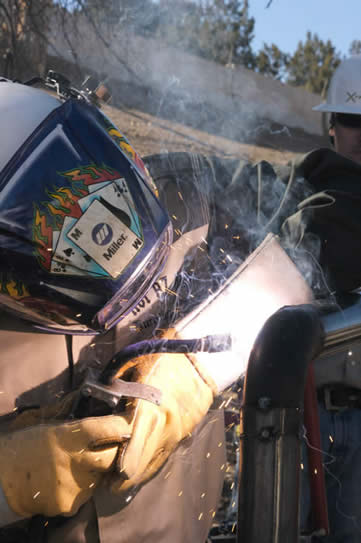 Measuring the value of a welding gun can be difficult when the gun is working properly. It's those times when the gun is malfunctioning and you're losing valuable production time trying to clear out a bird's nest, change your fifth contact tip of the day or repair a shorted out power cable that the importance of the welding gun becomes clear.
As one of Arizona's premier handrail fabricators, Hot Az Hell Welding and Fabrication learned first hand the value of a welding gun when they began upgrading the majority of their equipment from Stick to the flux-cored process. While upgrading, company president Shawn Moreland didn't think much about the flux-cored gun he would purchase and made his decision strictly based on price. Then, he and superintendent Chris Rice worked side-by-side on a project while Rice used a Bernard Dura-Flux™ gun instead.
"I would be getting birds nests several times a day with the gun I purchased, and each time it would happen, Chris would have to come over and fix it for me," Moreland recalls. "It would take him off his work and up to 10 minutes to fix. That whole week Chris didn't have a single birds nest with the Dura-Flux, and eventually we realized it was the gun that made the difference."
They outfitted Moreland's wire feeder with a Dura-Flux and he didn't experience a single bird's nest for the rest of the job.
"We just threw the other gun away," Moreland said. "After I got a chance to use Chris' gun, I was 100 percent sold on Bernard."
As pleased as they were with the lack of downtime from repairing birds nests, Rice and Moreland have been even more impressed with the gun's durability.
"It gets pretty hot here, and the last thing my guys want to worry about is babying their welding equipment, so we end up putting the guns through some serious abuse," Moreland explained. "I know you're not supposed to, but we use the guns to drag our feeders all over a job site and the fact that they're still working really tells me something about the quality of the gun."
The key to success
Quality is something that Moreland, Rice and the other three Hot Az Hell employees, know a lot about. In over 20,000 linear feet of hand rail fabrication, they can boast that they have not had to make a single repair.
"We have a flawless record with the register of contractors," Moreland said. "We have dozens of general contractors that recommend us for federal, state, local and even residential projects, and we owe a lot of that to Chris' commitment to high-quality welding."
The company specializes in hand rail fabrication, but also takes on a wide variety of welding jobs, including a recent project in which they welded five railroad cars together to form a bridge over the Central Arizona Project (CAP) Canal.
Given the company's history, it's no surprise that an exceptional welding track record grew out of exceptional personal chemistry between Moreland and Rice. The two men became best friends while working as first line supervising foremen at an Arizona gas utility.
"We formed a really tight bond back then because we were the only two that we could rely on within the company," Moreland recalls.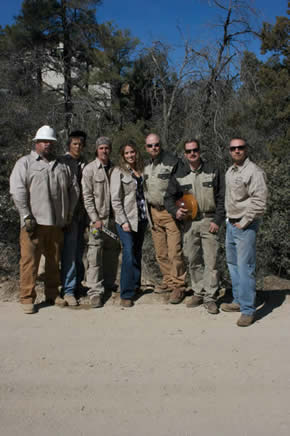 Both Moreland and Rice left their jobs to start their own businesses within a year of each other. Moreland said he frequently attempted cajoling Rice into working for him, and finally in 2006 Rice acquiesced and closed his business in order to join Hot Az Hell.
From modest beginnings in 2006, Hot Az Hell has grown from an annual gross $160,000 their first year to projections of over $800,000 in 2009 — all with a five person staff. As of early 2009, the company was booked solid through mid-2010 with contracts to install over 32,000 linear feet of hand rail, including two of the largest projects in the Arizona Department of Transportation's history — the widening of U.S. Highway 60 in Mesa and the Hoover Dam Kingman Highway expansion project.
Moreland said the friendship among his employees, and their willingness and ability to take on virtually any of the work the company performs is a major contributor to their success.
"We're a very tight knit group. We're more like a family than a company, but we also understand the business aspect of it as well," Moreland said. "With a company our size, especially with the economy in a recession, everyone needs to be very versatile and able to take on whatever tasks the job demands."
Focus on efficiency
Another key to the company's success is Moreland's confidence in the fabrication and welding expertise of Rice, the company's 'MacGyver.'
For his part, Rice said he is continually on the lookout for products and technologies that increase the company's productivity and operator efficiency.
As an example, during the recent CAP Canal project, the company was told they would need to use 7018 stick electrodes to weld the rail cars together, but after the first day of welding the pan decking using the stick electrodes, Rice asked the project inspector if they could use a structural flux-cored wire. They were allowed to use the flux-cored wire, and the following day, they produced four-times the welds of another crew member who was still using the 7018 rods.
"They were losing several thousand dollars an hour every day that they couldn't get their cranes across a 22-foot diameter pipe," Moreland recalls. "By the end of the project, the general contractor told us, 'We owe you guys big time.' They didn't think there was any way that we were going to be able to finish the bridge in the time that it took us."
Reliable equipment equals increased productivity
Rice and Moreland apply that same focus on productivity and efficiency to purchasing their flux-cored guns. For them, a great welding gun doesn't so much speed up production as it avoids becoming an obstacle to production. That means minimizing downtime associated with contact tip changeovers, reducing operator fatigue and providing smooth and consistent wire feeding while enduring large amounts of mechanical and heat stress.
The majority of the hand rails they weld are two-inch, schedule 40 mild steel pipe. Rice said for the .045-in. flux-cored wire he uses he sets his welding generator at 25 volts and about 110 inches per minute wire feed speed. They use a voltage-sensing wire feeder that provides the ability to work up to 400 feet from the welding generator (compared to roughly 75 feet with a remote control wire feeder).
Given the heat and abuse that flux-cored guns are exposed to in normal environments, to say nothing of the brutal Arizona desert heat and landscape, finding one that simply allows them to keep welding is no easy task.
Once they put the Dura-Flux gun to the test, however, they knew their search had ended.
"We were on a job in Wickenburg (Az.) this week, and it was about 100 degrees out and we were working on a steep, 50-foot tall embankment," Rice said. "After working all day in that heat, we were dragging our feeder by the gun up hill through rocks and dirt, and that's pretty much what we've been putting the gun through on a regular basis. So far, there have been no problems with the gun or the consumables."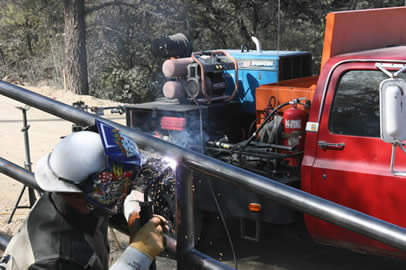 Moreland echoed that sentiment, recalling a recent bridge job. "There was only about four feet of clearance, so you had to hunch over and drag your machine every time you finished a weld and needed to move," Moreland said. "When you're hot and tired and working your butt off, you're not going to be too careful with your equipment. These guns have been used hard and they're still going strong."
One of the features of the Dura-Flux that allows it to endure the abuse to which Rice and Moreland subject it is an industrial-quality strain relief on the back end of the power cable. The high-tension strain relief protects the sensitive parts of the cable—where it connects to the gun and the power pin—from severe bends that could damage or fray the copper wiring in the cable or create a kink in the liner.
Another key factor in maintaining high productivity rates is avoiding downtime caused by burn backs, when the welding wire fuses to the contact tip, or bird nests, when the welding wire becomes blocked and forms a tangle resembling a bird's nest inside the gun, cable or wire feeder.
"It costs us money and impacts our ability to complete a job on schedule whenever my guys have to stop welding to deal with a bird nest or to change contact tips," Moreland said. "Compared to the Dura-Flux, the other gun we tried got dirty very easily, and that resulted in frequent burn backs and bird nests."
"On a recent project, we had over 200 feet of three-rail hand rails, with a total of 320 welds, and the only tip I changed was my fault because I mis-stepped and stuck it to the pipe," Rice said. "That was 27 straight hours of welding without a single problem with the gun or tip. To me, it's pretty obvious that the Dura-Flux gun is the best choice for our operation."
Although it's difficult to measure the impact that the Dura-Flux gun made for Hot Az Hell, what is certain is that it is a much smaller impact than their previous gun brand would have made — and that's a good thing.