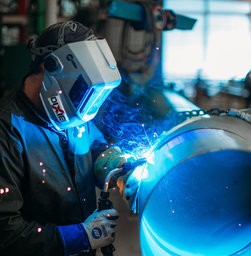 From Semi-Automatic to Automatic: Tips for Selecting a Welding Gun
Choosing the right equipment for a welding operation is critical to achieving high weld quality and productivity while also eliminating costly downtime. And that includes welding guns.
In many cases, companies may have a mix of welding processes and guns. For example, in heavy equipment and general manufacturing, it's common to have semi-automatic welding along with robotic welding. In oil and gas and shipbuilding applications, semi-automatic welding and fixed automation are prevalent. The combination of welding processes and equipment allows companies serving these industries to weld a variety of part volumes and sizes.
These process mixes, however, can pose challenges in terms of gun selection. That's why it's important to know the best welding gun features to look for to achieve the desired weld results — and the best efficiencies.
This article has been published as a web-exclusive on thefabricator.com. To read the entire story, please click here.