How To Install the TOUGH GUN Reamer TT Series
WARNING: Ensure the power supply is off and disconnected before proceeding!
Mounting the TOUGH GUN® Reamer
The TOUGH GUN Reamer should be installed within the weld cell at a convenient location. Be sure to consider movable fixtures and the working envelope of the robot.
Affix the TOUGH GUN Reamer base to a sturdy platform using the four (4) bolts provided.
Mounting Hole Locations and Footprint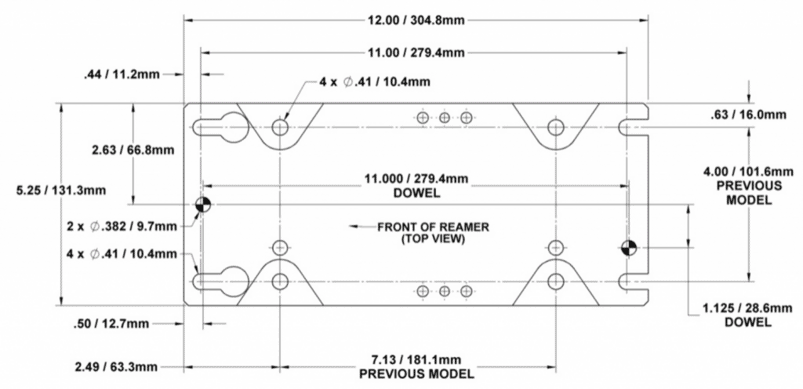 Connecting the Air Supply
WARNING: Push the RESET button before connecting the air line.
Use only filtered, lubricated air.
IMPORTANT: Requirements – 80 to 100 psi at 16 CFM (5.0 to 7.0 BAR at 450 LPM) at the TOUGH GUN Reamer during operation.
Use an air supply line with an inside diameter of 3/8 inches. Connect to a 1/4-inch female NPT inlet located on the side of the TOUGH GUN Reamer.
Dimensions