How To Install the QUICK LOAD Liner AutoLength System on Robotic MIG Guns Equipped with Wire Brake
Two sets of installation instructions are provided below:
Installation from the Rear of the Gun
Remove the power pin from the feeder assembly.
Remove the current power pin from the gun unicable.
Feed the QUICK LOAD Liner into the new AutoLength Pin.
Compress the liner inside the AutoLength Pin and mark the liner to the face of the pin. Note: This step will account for all variations of pins.
Record this distance MEASUREMENT B.

Remove the QUICK LOAD Liner from the AutoLength Pin and insert the liner to the rear of the gun until it stops, ensuring all wire brake components are installed (pushing unit and wire guide).
Record the stick-out from the liner to the rear of the gun as MEASUREMENT A.

Liner length should now be trimmed by MEASUREMENT A subtract MEASUREMENT B. This becomes the liner cut indicator, INDICATOR C.
Trim the liner at INDICATOR C location. Note: The trimming location is at the opposite end of the liner bullet.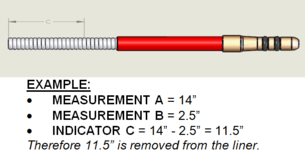 Insert the liner into the rear of the gun.
Install he AutoLength Pin. Torque to 18 ft.-lbs. Note: The AutoLength Pin will be under some slight compression.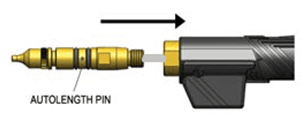 ---
Installation from the Front of the Gun
Ensure the line air is off and locked out on the unit.
Remove the contact tip, nozzle and retaining head from the gun.
Remove the neck from the gun assembly.
Remove the air line supply from the wire brake.
Remove the wire brake from the gun mount. The assembly can be removed by turning the piston counterclockwise.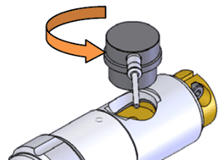 Using the wire guide tool or screw driver, remove the wire guide inside the gun housing.

Insert the QUICK LOAD Liner from the front of the gun and compress the AutoLength Pin. Note: The QUICK LOAD Liner will insert and then you should feel 1″ (2.54 cm) of additional compression.
With the AutoLength Pin compressed, mark the liner through the wire brake hole toin dicate where the liner will be trimmed.
Remove the liner from the gun enough to trim the liner at the marked location.
Using the wire guide tool or screw driver, compress the QUICK LOAD Liner into place and secure it with the wire brake piston. Once in place, tighten the piston to hold the QUICK LOAD Liner and wire brake assembly in place.

Reinstall the neck to the gun body.
Insert the jump liner into the neck.
Using the liner gauge, trim the jump liner to 3/4″ stick-out.
Reinstall the consumables.
INS089 REV 11/12